Source: GetUp! email
As Angus Taylor was busy pledging another $50 million of public money for fracking this week, Traditional Owners were fronting up at a crucial Senate hearing about consent.1,2
Traditional Owners travelled thousands of kilometres from remote communities to speak to Senators as part of the inquiry into oil and gas exploration in the Beetaloo Basin in Darwin.
From Borroloola to Minyerri, Marlinja to Mparntwe (Alice Springs), they came together to tell the Morrison Government face-to-face: we do not consent to fracking on our land.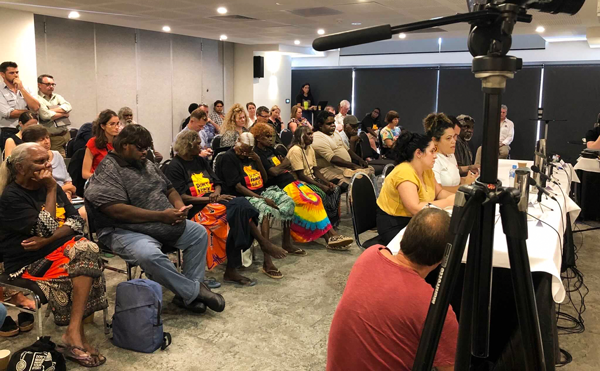 IMAGE: GetUp's First Nations Justice Directors, Larissa Baldwin and Amy Gordon, giving evidence to the Senate Committee, backed by Traditional Owners.
It was vital that Traditional Owners were there.
Because when the gas industry and the Northern Territory Government tried to claim consent has been given to frack land, Traditional Owners could refute them
to their face
.
They spoke directly to Senators about how fracking destroys sacred land, water, culture, and climate, and insisted public money be spent on housing, health, and community instead. Justin, it was an unmissable accountability check, now officially on the record in Hansard.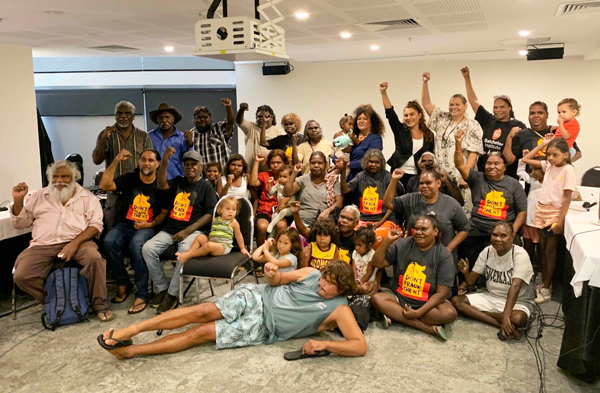 IMAGE: Traditional Owners gave evidence to the Inquiry at a community consultation in Darwin on Wednesday
But that's not all.
With your help, our team ensured their voices were broadcast from Darwin across the nation with massive media coverage. Headline after headline, as well as on TV and radio, we exposed the non-consent to frack from Traditional Owners.
3,4,5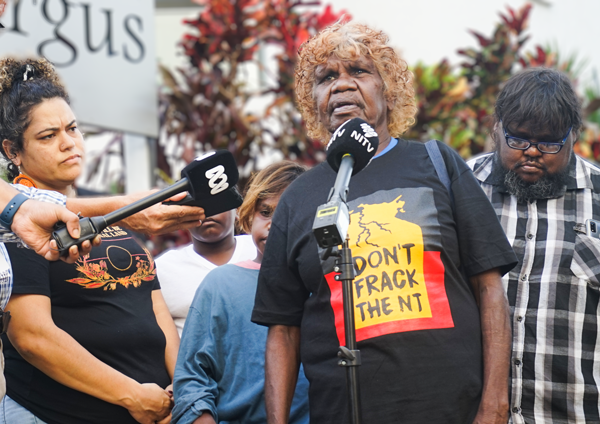 IMAGE: Aunty May August, Alawa Traditional Owner, speaking to the media in Darwin.

It was a huge achievement — but it didn't happen overnight.
Ensuring Traditional Owners from across the Northern Territory could have their voices heard at the inquiry took
months
of planning and weeks of driving.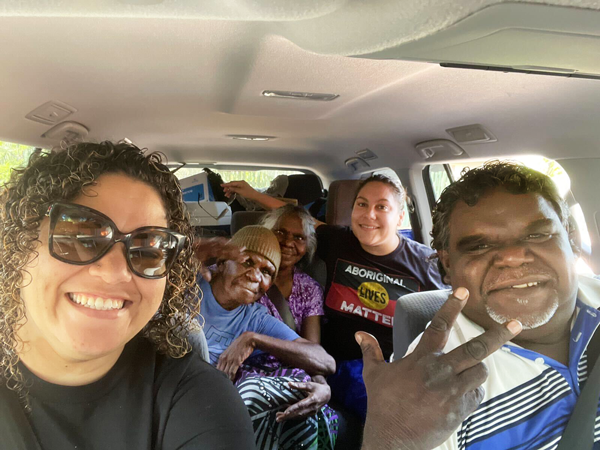 IMAGE: One of multiple cars journeying across the NT, headed to Darwin.
In fact, getting this inquiry in the first place was hard-won.
Last year, Traditional Owners penned a powerful letter to Parliament — and travelled all the way from their communities to Canberra to deliver it — with over 48,000 Getup members uniting behind them and signing on too.
These Traditional Owners met with politicians from across the political divide, demanding an investigation into gas and oil exploration on their land — and they won.6

And one year on the Inquiry yesterday heard damning evidence
of how fracking the Beetaloo would destroy Country and release a climate bomb.
7
How Traditional Owners are being steamrolled.
8
And about how just 27% of recommendations from the
previous
inquiry into fracking had been implemented.
9
All of this and more will be collated to form new recommendations, to be handed down next month.
But there's still so much more to do. Next week, the Morrison Government will deliver the Federal Budget. 3,416 GetUp members have already emailed Treasurer Frydenberg, creating an electoral penalty for more cash for gas — and it's up to us to keep up the pressure.
So we're taking the fight against fracking to where it'll have the most impact: the ballot box. Already, we're rolling out a massive campaign across the ultra-marginal electorates of Lingiari in the NT — where the Beetaloo Basin is — and Leichhardt in QLD.
Morrison has been on the ground vying for votes in these electorates, exposing their importance to him.
10,11
But we're one step ahead of him, poised to blast airwaves, screens, and head to communities to engage folks to enrol and vote on issues like fracking, cultural heritage, health, and housing.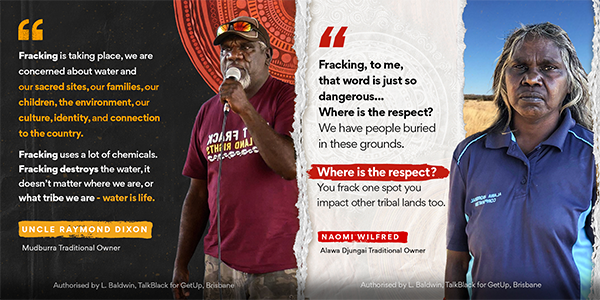 IMAGE: Like and share these powerful quotes from Traditional Owner here
Justin, nothing we do would be possible without GetUp members like you signing, sharing, contacting politicians, and chipping in.
Thanks, as always, for all you do.
In determination,
Larissa, Amy, Anyupa, Edie, Jordan, Tamika, Ethan, Jasmyn, and Samala for the GetUp team.
All First Nations work at GetUp is led by a team of campaigners and organisers from the Widjabul Wia-bul, Gooreng Gooreng, Warlpiri, Luritja-Pitjantjatjara, Wiradjuri, Noongar, Wakka Wakka, Gubbi Gubbi, Warumungu, Muluridji, Lardil, Woppaburra, and Butchulla Nations.
IMAGE: Traditional Owners and their families rallied outside the Inquiry in Darwin this week.
References:
[1] Beetaloo traditional owners yet to be consulted on production of fracking gas, Senate inquiry hears,
The Guardian
, 22 March 2022.
[2] Gas projects accelerated as Taylor boosts funding,
AFR
, 21 March 2022
[3] Wednesday, 23 March news broadcast,
NITV
, 23 March 2022.
[4] Beetaloo traditional owners yet to be consulted on production of fracking gas, Senate inquiry hears,
The Guardian
, 22 March 2022.
[5] A Senate inquiry into the gas-rich Beetaloo Basin is sitting in Darwin today. Here's what it means,
ABC News
, 22 March 2022.
[6] 'The fight is on': Senate to probe Beetaloo Basin fracking,
NITV
, 24 June 2021.
[7] Politics live blog,
The Guardian
, 22 March 2022.
[8]
Ibid.
[9]
Ibid.
[10] News in depth: Major party leaders hone in on vacant federal seat of Lingiari,
SBS News
, 18 February 2022.
[11]Prime Minister Scott Morrison in Cairns to announce $60m tourism package,
Cairns Post
, 22 March 2022.