Source: CIVICUS Monitor Updates • Dataset includes information on 155 countries. By region: 23 from the Americas, 37 from Africa, 36 from Asia & Pacific, 42 from Europe & Central Asia and 17 from the MENA region. By rating (2022): 17 open countries, 31 narrowed, 38 obstructed, 45 repressed and 24 closed
How criminalisation is being used to silence climate activists across the world
Guardian investigation finds growing number of countries passing anti-protest laws as part of playbook of tactics to intimidate people peacefully raising the alarm
In The Guardian by
Thu 12 Oct 2023
As wildfires and extreme temperatures rage across the planet, sea temperature records tumble and polar glaciers disappear, the scale and speed of the climate crisis is impossible to ignore. Scientific experts are unanimous that there needs to be an urgent clampdown on fossil fuel production, a major boost in renewable energy and support for communities to rapidly move towards a fairer, healthier and sustainable low-carbon future.
Many governments, however, seem to have different priorities. According to climate experts, senior figures at the UN and grassroots advocates contacted by the Guardian, some political leaders and law enforcement agencies around the world are instead launching a fierce crackdown on people trying to peacefully raise the alarm.
"These defenders are basically trying to save the planet, and in doing so save humanity," said Mary Lawlor, the UN special rapporteur on human rights defenders. "These are people we should be protecting, but are seen by governments and corporations as a threat to be neutralised. In the end it's about power and economics."
Climate and environmental justice groups report a significant increase in draconian, and often arbitrary, charges for peaceful protesters as part of what they claim is a playbook of tactics to vilify, discredit, intimidate and silence activists.
The Guardian has also found striking similarities in the way governments from Canada and the US to Guatemala and Chile, from India and Tanzania to the UK, Europe and Australia, are cracking down on activists trying to protect the planet.
The legal contexts vary, but the charges – such as subversion, illicit association, terrorism and tax evasion – are often vague and time-consuming to disprove, while a growing number of countries, including the US and UK, have passed controversial anti-protest laws ostensibly intended to protect national security or so-called critical infrastructure such as fossil fuel pipelines.
The systematic criminalisation of environmental defenders is not new. Natural resources on Indigenous land have long been exploited, driving big profits for some but also fuelling violence and inequality.
Experts say the Marlin mine in Guatemala was one of the earliest documented cases of a transnational corporation – and its state allies – weaponising the legal system against environmental defenders. Since then, the Inter American Commission on Human Rights has repeatedly condemned what it describes as the alarming rise in the misuse of criminal justice systems against environmental, land and other human rights defenders across Latin America.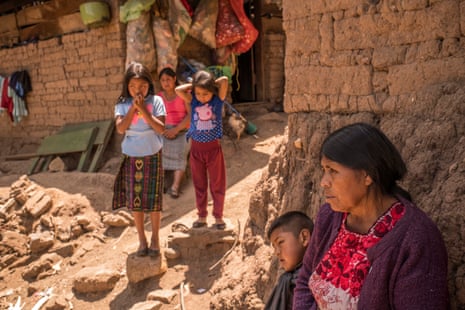 "Criminalising defenders encourages collective stigma and sends off an intimidating message," the IACHR said last year.
According to Lawlor, this criminalisation of environmental protestors has since become a global phenomenon, and is now the most common tactic used to silence and discredit defenders.
"At its core it's about maintaining the power structures in place. This is true regardless of whether it's a dictatorship, democracy or a corrupt narco state, and regardless of the state's professed commitment to human rights, protecting the environment and combating climate change," she said.
"Smearing defenders as lawbreakers or anti-development distracts from the cause and changes the narrative … What's clear is that states learn from each other."
'Really terrifying'
Climate activism is well and truly back. Paolo Gerbaudo, an academic at King's College London who studies social movements, said that before the 2008 financial crash, the climate emergency felt like "the challenge of our time". But it "largely slipped off the social and political agenda" as activists such as Occupy turned their attention to opposing austerity policies and pushing for global economic reforms.
As scientific warnings grew ever more dire during the 2010s, there was a deepening feeling that traditional environmental campaigning was failing, and that politicians were not delivering – with potentially catastrophic consequences.
It was into this context that more direct action, and more radical environmental protest groups emerged. Over the past five years, the UK has been not only at the forefront of these new forms of non-violent activism, but also novel means of silencing it.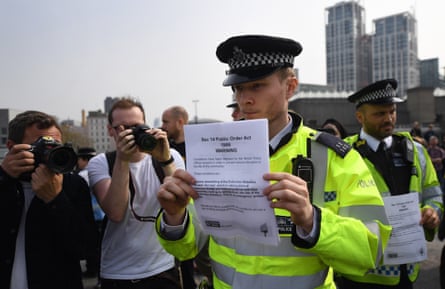 In 2019, Extinction Rebellion paralysed London traffic for days with an unprecedented carnival of climate protest, then the following year turned their attention on the press with blockades of newspaper printing sites. In 2021, as Covid pandemic restrictions lifted, Insulate Britain pioneered the tactic of disruptive roadblocks with small groups, polarising the public but forcing home insulation on to the political agenda. Just Stop Oil expanded those tactics last year, turning them on to the UK's oil infrastructure, and widening their targets to a series of headline-grabbing protests at sporting and cultural events.
New groups have since sprung up in Canada, Australia, the US, Italy and Germany – such as the Sunrise Movement, Climate Defiance, Fridays for Future, Last Generation and the Tyre Extinguishers – which imitate the non-violent but disruptive tactics of Insulate Britain, picking a single demand and protesting until it is met or the activists are jailed. The focus and methods vary, from disrupting shareholder meetings, sit-ins and roadblocks to damaging artwork and SUVs, and confronting politicians and academics with fossil fuel ties at their homes and workplaces.
There are also examples of grassroots opposition to fossil fuel pipelines, mines, petrochemical plants and other polluting projects ballooning into global movements, such as the 2016 Dakota Access pipeline protests on the Standing Rock Indian Reservation in South Dakota. Protests against multinational banks financing the East African crude oil pipeline (EACOP), which threatens to pollute vital water sources and displace thousands of families and farmers in Uganda and Tanzania, have taken place in around 20 countries.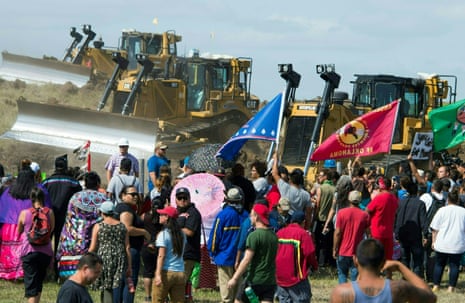 But as such protests have become more direct, organised and disruptive – which activists say reflects the urgency of the situation – states have responded increasingly aggressively.
Gerbaudo said repression against climate activists was growing: "Punishment for collective actions is becoming ever more draconian, as a means to discourage them and criminalise them …… This is a testament to the way in which the political class, while having few practical responses in store to the demands of social movements, all too often resorts to simply repressing these very demands and the groups and individuals voicing them."
In Australia, Human Rights Watch has found that the authorities "are disproportionately punishing climate protesters in violation of their basic rights to peaceful protest". Several states, including Tasmania, New South Wales and Victoria, have passed or are trying to pass laws that can punish peaceful environmental protesters with hefty fines and jail time. The laws are accompanied by an expansion in the discretionary powers available to police such as on-the-spot fines and onerous bail conditions.
In the US, 21 states have passed critical infrastructure protection laws since the Standing Rock protests, and dozens of activists have been arrested and/or charged in the past five years. Many of the states' legislation shares language drafted by the American Legislative Exchange Council (Alec), a rightwing group funded by fossil fuel companies.
In the UK, after the surge in protests in 2019, rightwing opinion formers were aghast at the perceived breakdown in public order and the Conservative government responded with a plethora of new police powers to tackle what it called the "guerrilla protest tactics" of the new climate movement.
The 300-page Police, Crime, Sentencing and Courts Act 2022 significantly increased the power of the state to regulate protest and activism. Police were given extensive new powers to ban non-violent protests considered too noisy or disruptive – with the definition of disruption left up to the government to decide. Penalties for obstructing the highway – a key tactic of XR and its offshoots – were increased to potentially unlimited fines and six-month prison sentences, even if police had already closed the road.
A new statutory offence of causing a public nuisance was also created – replacing its old common law equivalent and specifically targetting protests – with offenders facing potential 10-year jail sentences.
The legislation followed a report by the rightwing thinktank Policy Exchange entitled Extremism Rebellion. It claimed that non-violent environmental campaigners and campaigns could stray into terrorism, and called for new laws to curtail them. The government adopted its proposals in the new act. Investigative journalists later reported that Policy Exchange had previously received funding from energy interests including ExxonMobil, Drax and Energy UK.
Amnesty described the passage of the "deeply authoritarian" act as a "dark day for civil liberties in the UK", but the ink had barely dried on the statute books when the government followed it up with a second anti-protest law. The Public Order Act, passed by parliament earlier this year, includes orders that can ban named individuals from joining protests, and an expansion of police powers to stop and search people on the grounds they might be planning to commit a protest-related offence – including many newly created by the bill – as well as powers for "suspicionless" searches.
It also created new offences of "locking on", where protesters chain or glue themselves to immovable objects or each other, going to protests equipped to lock on, obstructing major transport works, interfering with national infrastructure and tunnelling – all tactics used by climate activists.
Restrictions have been placed on defendants in a series of trials that prevented them from mentioning the climate crisis, insulation, fuel poverty or their motivations as part of their defence.
David Armiak, the research director at the Center for Media and Democracy, said the new UK and US legislation was "part of a last-ditch, industry-backed effort to protect its profit model in the face of public demands to turn to renewables and divest from fossil fuels as the climate emergency intensifies".
"It is likely not a coincidence that Policy Exchange and Alec have both been members of the Atlas Network, a global network of rightwing non-profits successfully pushing an anti-regulation, pro-corporate policy agenda worldwide that is fuelled with cash from Charles Koch, Exxon and dark money conduits."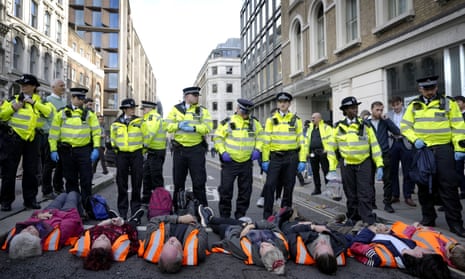 Michel Forst, the UN special rapporteur on environmental defenders, said: "What is happening in the UK is really terrifying. What can people do against these new laws that have been introduced? What are they supposed to do?
"You can see some countries are looking at the UK examples with a view to passing similar laws in their own countries, which will have a devastating effect for Europe."
He said there seemed to be coordinated state action from Germany to Italy and from Spain to Denmark to penalise and crack down on protesters, and that he had seen growing anxiety and stress among young climate activists and lawyers across the continent first hand.
"It has clearly had a chilling effect … My concern is that there is no clear response from the international community on what's happening in our countries," he said.
Lawlor said: "Criminalisation is the most common tactic used against human rights defenders, because it's so easy and has such a big impact."
Europe follows UK's lead
Authorities in Germany launched an organised crime investigation into Letze Generation or Last Generation, part of the same transnational A22 climate activist network as Just Stop Oil, after months of disruptive protests by the group. They responded to the group's repeated roadblocks and direct action by launching dawn raids on its members' homes and wiretapping their phones and shutting down its website.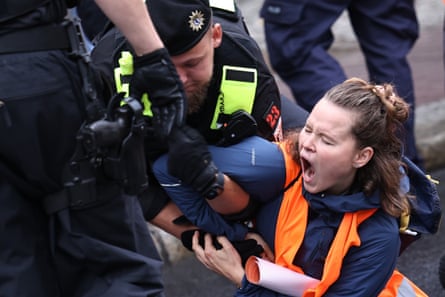 Last Generation climate activists protest in Berlin in September. Photograph: Clemens Bilan/EPA
Italy also used anti-mafia laws to target its own A22 affiliate, Ultima Generazione, also Last Generation, mobilising its Digos counter-terrorism unit to investigate the group. After a string of actions around the country's ancient cultural icons, the government passed a law in July bringing in fines of up to €40,000 (£35,000) for protesters who deface or damage monuments.
Police in the Netherlands detained nearly 3,000 climate protesters in a single weekend this summer after they blocked the A12 highway through The Hague. Police turned water cannon on the 10,000 who joined the protest, some of them in swimwear in expectation of the tactic. It was a repeat of a similar episode in May, when 1,500 people were arrested in a single day for blocking the same road. In August, seven supporters were convicted of sedition for calling on people to join a protest on the A12 in March.
Similarly heavy charges have been levelled against Sweden's A22 affiliate, Återställ Våtmarker, or Restore Wetlands. The group said members had been held in prison for five weeks after their first week of action last year. As many as 25 have since been convicted of sabotage for taking part in roadblock protests in Stockholm. "There are 14 people in jail at the moment for putting a little bit of peat in a ditch," the group's spokesperson said in early August.
But it is France, a country with longstanding tensions between the state and civil society, where some of the harshest measures have been taken against environmental protests. In June, the country's interior minister, Gérald Darmanin, took the radical step of using a law drafted to tackle extremist groups to outlaw one of the country's most popular environmental protest groups, Les Soulèvements de la Terre, or Earth's Uprisings. The group had emerged as a significant and novel force in environmental campaigning, but its use of tactics including sabotage put it on a collision course with the French state. Darmanin has denounced its supporters as "ecoterrorists".
Overall, governments have claimed that new laws and harsher penalties are necessary to protect energy infrastructure and deter increasingly disruptive protests.
A spokesperson for the UK Home Office said: "The right to protest is a fundamental part of our democracy but we must also protect the law-abiding majority's right to go about their daily lives.
"The Public Order Act brings in new criminal offences and proper penalties for selfish, guerrilla protest tactics."
The French interior ministry said local officials had the right to ban demonstrations that posed a serious risk of disturbing public order. "These one-off bans, of which there are very few in absolute terms, are not imposed because of the reason for the demonstration," a spokesperson said.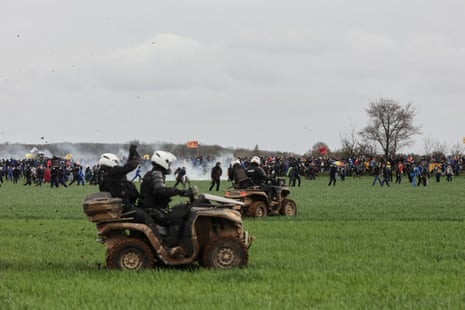 The Swedish interior ministry declined to comment. The Dutch ministry of justice did not respond to requests for comment.
A global phenomenon
Criminalisation does not happen in isolation. Experts say that deploying the legal system is part of a spectrum or playbook of escalating tactics deployed by corporations and their allies to divide communities, distract leaders and weaken social movements. The tactics reported by activists include online attacks, defamation, police surveillance, security deployments and violence.
In the southern US state of Georgia, the environmental activist Manuel Esteban Páez Terán was shot dead by Atlanta police during the state's crackdown on protesters opposing the construction of a sprawling police and fire training centre that will partially destroy a city forest. No officers have been charged in relation to the killing, but dozens of activists face domestic terrorism charges with bond conditions banning communication between them.
In India, environmental and other human rights defenders have faced increasingly hostile and dangerous conditions under the Hindu fundamentalist government of Narendra Modi. In the state of Tamil Nadu, police have been accused of excessive force and instigating violence against protesters opposing the expansion of a vast copper smelting plant, which in 2018 resulted in 13 deaths. Activists and NGOs in India also face arbitrary criminal charges, surveillance and frozen bank accounts, creating a "chilling effect on civil society", according to Global Witness.
A crackdown on environmental, land and climate activists – and journalists – has been documented in African countries including Mozambique, Cameroon and Egypt, as the so-called western "dash for African gas" has intensified in the wake of Russia's war on Ukraine. There are also reports of arrests, land grabs and violence against community leaders and NGOs campaigning againstthe 900-mile EACOP, which scientists say will generate 379m tons of climate-heating emissions.
Lawlor said land, environment and Indigenous rights defenders accounted for about 70% of killings of human rights activists every year.
"They are a priority for me," she said. "Most countries are talking out of both sides of their mouth. On the one hand, they say they support the fight against climate change, and they want to bring down emissions and they want to protect the environment. And on the other hand, they're just allowing companies to come in and give them licences, even though the rights that these people are trying to defend are protected in international law.
"What we're seeing is a lack of determination by states to treat climate change like a crisis. There's a total disconnect and it's all very murky."
Latin America is the deadliest region for environmental and land defenders, according to a decade of data collated by Global Witness. In Brazil, the Indigenous rights expert Bruno Pereira and the Guardian journalist Dom Phillips were murdered last year while investigating illegal fishing and mining in the Amazon.
A Guardian investigation also found that at least two dozen environmental defenders had been murdered, disappeared or jailed in Mexico and Central America in the first three months of 2023, with governments in the region widely condemned for indirect violence by licensing extractive projects without consulting communities and failing to prosecute perpetrators.
Shin Imai from the Justice and Corporate Accountability Project (JCAP) – an Ontario-based legal clinic that helps communities affected by natural resource extraction hold Canadian corporations and states to account – said the criminalisation of environmental activists was particularly chilling because it exposed the symbiotic relationship between polluting corporations and governments.
"There is very clearly an international pattern to criminalise communities in which the nexus between corporations and governments is very important … mining and fossil fuel companies need the [host] state to criminalise defenders, and also often rely on their own government to use diplomatic influence to pressure the host state to deploy troops, pass laws, arrest activists and deny bail," said Imai, an emeritus professor at the Osgoode Hall law school in Toronto.
In other words, Shin said, acts of violence, online attacks, threats and other intimidatory tactics could be carried out against activists without state involvement, but criminalisation required lawmakers, prosecutors, police and courts to be involved – the same people and agencies we need to tackle the climate crisis and biodiversity loss.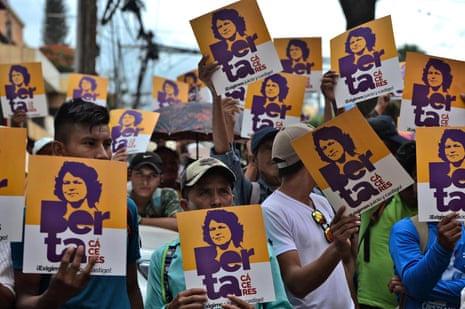 "Across the world, the legal goal posts are being changed to make criminalising climate and environmental defenders easier in a way that violates fundamental rights and the spirit of the rule of law," he said.
'A dangerous moment'
No major fossil fuel executive is known to have been detained for their role in the climate emergency, but UN experts, lawyers and activists have documented hundreds of environmental activists being arrested and charged for peacefully protesting to save the planet.
And their time is running out. That was the stark conclusion in this year's landmark IPCC report: "There is a rapidly closing window of opportunity to secure a liveable and sustainable future for all."
It is clear that communities on the frontline of the climate crisis know this, because they are the ones dying and losing their homes and livelihoods as a result of sea-level rise, erratic rainfall patterns and scorching temperatures. It is why campaign groups and activists across the world say they are taking direct action against extractive projects by targeting fossil fuel, mining and petrochemical companies and their enablers such as banks, private equity funds and politicians through direct and sometimes disruptive action, despite the risk to their freedom and their lives.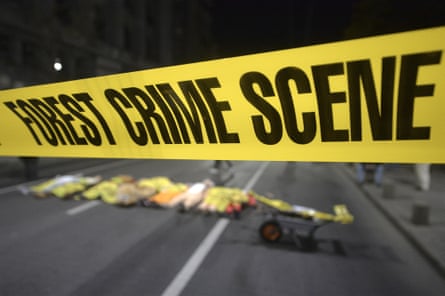 As the UN secretary general, António Guterres, said in April: "Climate activists are sometimes depicted as dangerous radicals. But the truly dangerous radicals are the countries that are increasing the production of fossil fuels. Investing in new fossil fuels infrastructure is moral and economic madness."
The climate crisis is exposing and aggravating economic, political and racial inequalities, but eventually the hotter planet will affect everyone, everywhere. Environmental and climate activists are trying to force governments and corporations to put humanity before profits and power, which is why Lawlor and Forst say arresting Indigenous land defenders in Canada, Greta Thunberg in Sweden, clean energy advocates in Vietnam and water protectors in Guatemala and Honduras are all connected, part of the same fossil fuel playbook to block and delay meaningful action.
This is a dangerous moment globally, says Jorge Santos, the director of a Guatemala-based watchdog that monitors attacks against human rights defenders. "If we don't stop the endless extraction of natural resources, the environmental and climate destruction will continue, and we'll see more and more authoritarianism because criminalisation and violence is in the DNA of this economic model."