The US pouring billions into new technology is a 'global gamechanger' Australia must swiftly capitalise on, according to analysts
"This great wad of money has surged [the US] to the forefront," he said. Still, "it's not going to be like we're going to up stumps and just move holus bolus to the States".
Major companies such as Fortescue Future Industries and Woodside Energyhave recently talked up plans to invest more in the US, citing the extra spending as a lure.
Hingerty, however, cautions governments against bending to demands they seek to match the largesse offered abroad or risk condemning Australian firms to becoming also-rans in the global race to decarbonise.
He said the US Inflation Reduction Act – the vehicle that will underwrite everything from the production of new forms of batteries, to renewable energy and hydrogen – would certainly offer "icing on the cake" for some investors.
But "if a company is chasing government handouts and that's the sole reason for picking a country, you got to ask yourself a bit about that company", Hingerty said. Rather, governments create coherent strategies that accelerate demand for hydrogen.
The clamour for support for emerging industries is only likely to grow as the Albanese government prepares to divvy up $15bn from its National Reconstruction Fund intended to rebuild Australia's industrial base. Of that, $3bn is earmarked for the manufacture of low- or zero-emissions technology for use in Australia, the industry minister, Ed Husic, told the National Press Club on Wednesday.
Husic advocated "faith in our knowhow", such as in the development of a domestic battery industry to take advantage of Australia's abundance of lithium and other critical materials.
"Our friends in the US know they can't do it all," he said, referring to meetings with the Biden administration in January. "There's this concept that they often refer to as friend-shoring, which is working with trusted partners on different elements of the value chain and seeing who can contribute. And in Australia's case, because we have a trade agreement with the US, it gives us entree straight away to be able to contribute."
Deloitte, an international consultancy, last month described Australia as facing a "hydrogen tipping point", as big-spending support packages elsewhere added to the urgency of getting a domestic industry off the ground.
"This decade matters – hydrogen producers are likely to develop significant and persistent first-mover advantages and the USA, Europe and Gulf producers are entering into a bidding war for market share and dominance," it said in a report that originated in analysis commissioned by Fortescue Future Industries.
Deloitte's global sustainability and climate leader, Bernhard Lorentz, said the rush of funding for the emerging non-fossil fuel amounted to a "global gamechanger".
"Australia has a huge chance to become a winner" in part because of the country's abundant renewable energy resources, Lorentz said. "But you have to make some very tough decisions and get some things right in the next, let's say, 24 months."
"If Australia doesn't help companies and investors to go particularly through the cost curves of the next five years, to do the right investments with a smart regime of subsidies, I think … there could be a negative effect for the greening of the Australian economy," he said.
FFI's billionaire owner, Andrew Forrest, told a Deloitte conference in Sydney earlier this month that "our entire competitive position as an economy is at stake. The decisions we take now – or don't – will have immense ramifications".
Forrest said his chief executive, Mark Hutchison, was "shifting Australian leadership across to North America", and had recently put three "significant" investment proposals there before his board for approval.
Gelion, a UK-listed company based in Australia, said its actions were "counter to that 'talk'" of shifting focus abroad, with the battery developer instead bringing talent, technology and funding to Australia to complement international operations.
"Gelion has accelerated investment in Australia to take advantage of the global industry drive toward green investments, in its pursuit of building the world's best battery," the firm's CEO, John Woods, said.
"We see an unmatched opportunity for Australia to benefit by leveraging our great academic talents and backing them to participate fully in the global market."
Gelion was founded by Thomas Maschmeyer, a University of Sydney professor.
Others, though, are keen to see more investment in the hydrogen sector rather than pledges.
The director of Asian hydrogen sales for US-based Chart Industries, Mark McKechnie, said a joke among his American colleagues was that "Australia has more announced hydrogen projects than anywhere else in the world", but only one – in the Pilbara – had reached a final investment decision.
The biggest hurdle for other projects proceeding was a lack of local demand.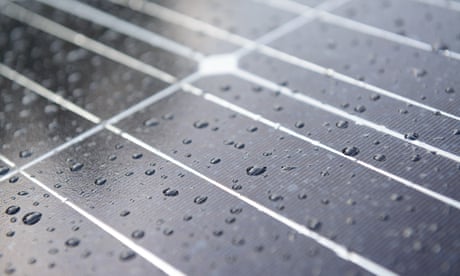 "I think not having an emissions targets on vehicles, not having a price on carbon is really deterring that," McKechnie said. "No one's investing because they haven't got the agreed offtake to make it happen."
"We're doing incredible business in the US around liquid hydrogen for mobility and other applications," he said. "And we're just not seeing that appetite here."
The CEO of the Australian Hydrogen Council, Fiona Simon, said Australia couldn't look to outspend the US or the EU in providing grants and subsidies. The federal government, though, needed "a further demonstration of seriousness … if we are not to fall further back in the queue for capital, equipment and the mobile workforce".
"Project approval timelines for critical infrastructure are too long," Simon said. "Any reform aimed at simplifying these processes would be a tangible step towards fast-tracking renewable energy generation and the production of hydrogen and its derivatives."