1. GEELONG'S CARBON NEUTRALITY DECLARATION: THE SPEECHES
2. Scott Morrison told the Business Council of Australia he "did a bit of a jig" after hearing Woodside decided to go ahead with one of the largest fossil fuel projects of the last decade – Scarborough gas.1
A councillor dancing in response to a decision made at an ordinary Council meeting is a rare sight to say the least. However, there was good reason for the extraordinary reaction as it happened in Geelong on 23 November 2021 when the City of Greater Geelong Council unanimously approved its new Climate Change Reponse Plan and with this the ambition to reach community-wide carbon-neutrality by 2035.
The local media, however, could not see the extraordinary impact of this net zero emissions decision. In the following days, the local papers mainly headlined stories about a set of new car parking rules and a new dog park, which also were decided on by Council at that same meeting. The journalists of Geelong Indy, Geelong Times and Geelong Advertiser all saw it more important to write about various awards, festivals and getting everyone ready for the 'Black Friday bonanza'.
For the leaders of a city of around 250,000 people to declare the city officially heading for carbon-neutrality within just 14 years stands in sharp contrast to the shameful inaction on the climate emergency which Australia made itself known for world-wide at the UN Climate Summit in Glasgow two weeks earlier.
Two new ideas were presented at the meeting: Cr Sarah Mansfield's suggestion to organise a 'COP of Geelong' – a climate summit to bring all the city's stakeholders together and get everyone on the same page, and David Philip's suggestion to place a huge carbon 'thermometre' at display, continuously updated, showing where the city is at with its emissions. It could start at the 100% mark, and residents would then be able to follow the metre's gradual decline down to zero.
Here's an excerpt of some of the speeches, comments and remarks from the meeting – as well as questions from the public.
Audio Player
2. Scott Morrison told the Business Council of Australia he "did a bit of a jig" after hearing Woodside decided to go ahead with one of the largest fossil fuel projects of the last decade – Scarborough gas.1
Email communication: Rhiannon 350.org Australia Saturday 27 November 2021
This is the same person who brought a lump of coal into parliament saying, "Don't be afraid, don't be scared, it won't hurt you. It's coal."
It's appalling that the Prime Minister was literally dancing with joy for a project that would produce the same emissions as 15 new coal-fired power stations,2 threaten pygmy blue whales and endangered turtles, threaten ancient rock art, and dump millions of tons of crushed rock and coral in the richest area of marine biodiversity in WA3.
References
[1] "Scott Morrison did a jig following approval of 16bn gas project labelled a disaster by green groups", The Guardian, November 24, 2021
[2] "Woodsides planned Scarborough gas field equivalent to 15 new coal plants report says", Renew Economy, 3 June 2021
[3]"Scarborough LNG pipeline approval risks climate, marine life, and cultural heritage", September 12, 2021, Conservation Council of Western Australia
A small group of protesters has congregated outside Woodside's Perth office to oppose the company's decision to proceed with its $16.5 billion Scarborough gas project, as company CEO Meg O'Neill said it was vital for the world's energy needs.
Woodside's Scarborough decision sparks Perth protest as CEO Meg O'Neill defends project
Posted 

,

updated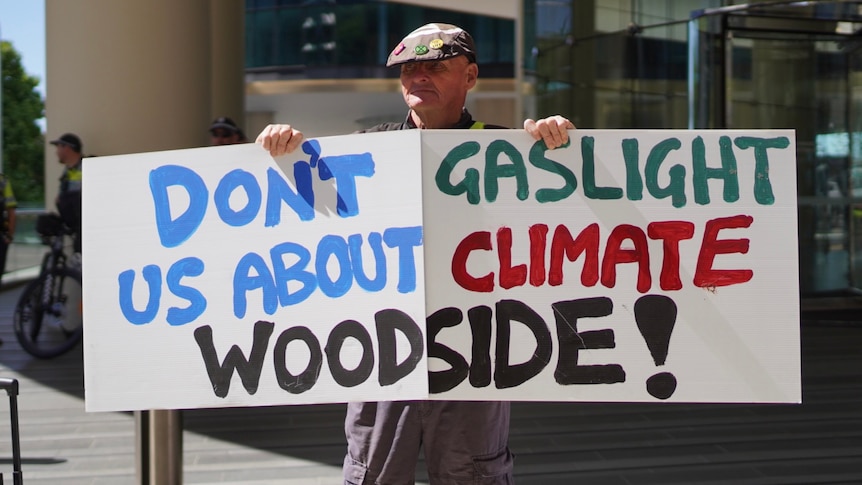 Key points:
Protesters outside Woodside's offices held placards
Woodside says investment in gas "is absolutely required"
But the Australia Institute says gas displaces renewables
On Monday the final investment decision was announced confirming the LNG gas field expansion, a joint venture between Woodside and BHP.
Protesters at the Mount Street office tower held signs reading: "say no to Scarborough" and "don't gaslight us about climate Woodside."
Protest organiser Rhiannon Hardwicke said as a 29-year-old, she was worried about Australia's "lagged" approach to climate action.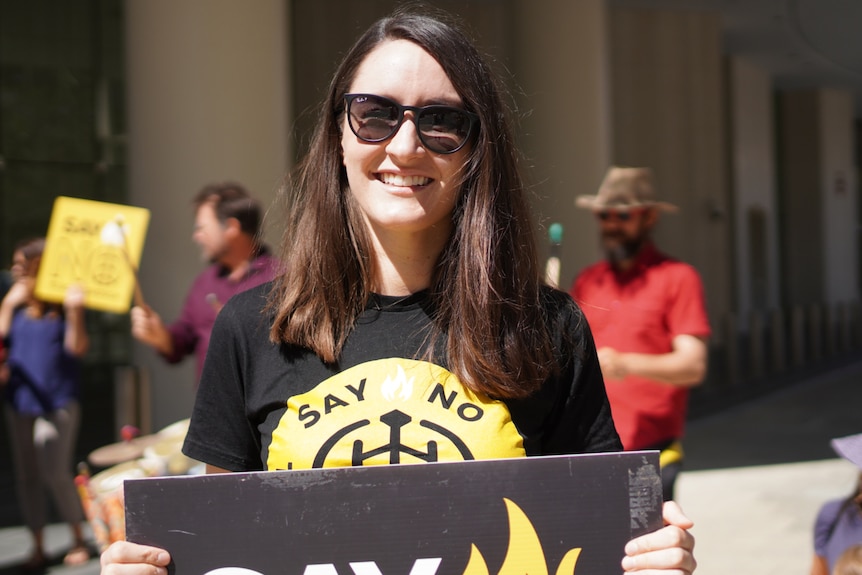 "We are going to face the consequences a lot more than some of the older politicians and people in power, so we are fighting for our own future and for future generations which I think everyone should be concerned about," she said.
Ms Hardwicke said she also wanted to ensure vulnerable populations around the world were protected from the worst impacts of climate change.
Gas needed alongside renewables: Woodside
Speaking to ABC Radio Perth, Woodside chief executive Meg O'Neill defended the project.
"If you look at the forecast for the world's energy needs in the decades to come, it's apparent gas has a very important role to play," she said.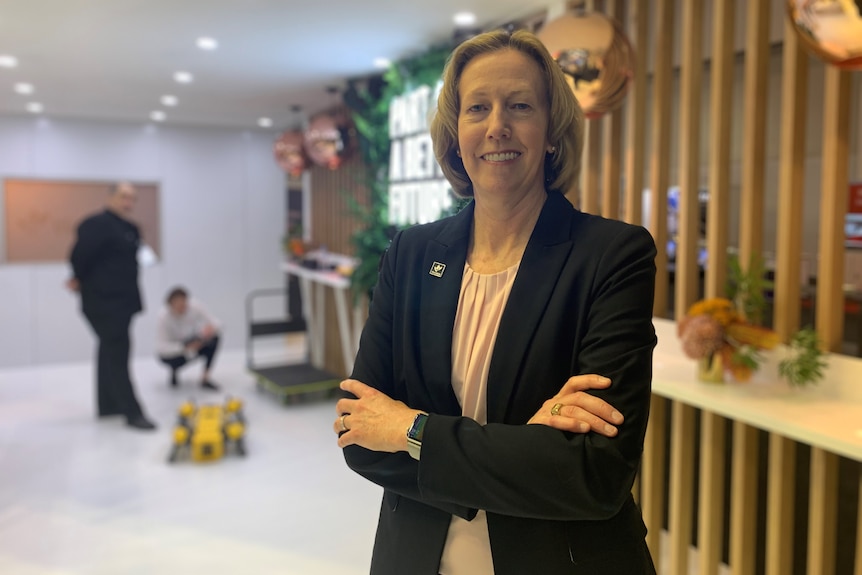 "I think the challenge of decarbonising the world given the size of the energy system is a very complex one.
"Tremendous investment in renewables is required, but investment in gas is absolutely also required.
"You don't have to look further than the [International Energy Agency's] Net Zero 2050 report to see that significant ongoing investment in oil and gas is required to continue to meet the energy needs of the world … Scarborough is just a part of that."
Ms O'Neill said the development would provide the lowest emissions intensity LNG coming out of Australia.
She said the company's international customers, namely Japan, Korea and China, were signatories to the Paris Agreement.
"These are nations that are trying to build their economies, improve the quality of life for their people, and do so in a way that is increasingly lower carbon," she said.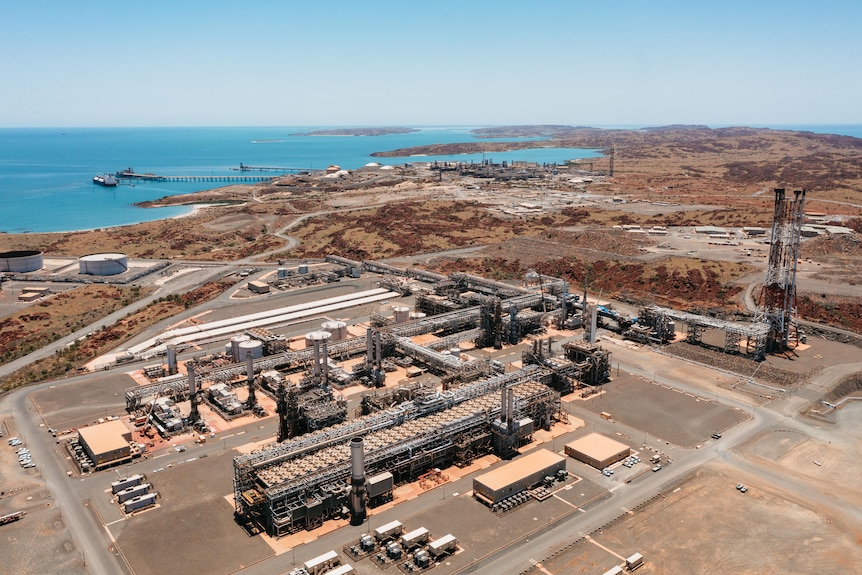 Scarborough is set to be the biggest oil and gas development undertaken in Australia since the end of a $275 billion investment splurge 10 years ago.
Just a week ago Woodside received an important financial boost by selling a 49 per cent stake in its $7.6 billion proposed second train at its Pluto facility to New York-based Global Infrastructure Partners (GIP).
LNG 'displaces renewable energy'
The project is expected to emit millions of tonnes of greenhouse gas annually at a time when countries are being urged to decarbonise.
Australia Institute principal adviser Mark Ogge said the project was "outrageously irresponsible".
"There's this hackneyed old talking point by the oil and gas industry that gas is a transition fuel — it's complete nonsense," he said.
"It's arguing gas is lower emissions than coal and will displace coal, with overall lower emissions.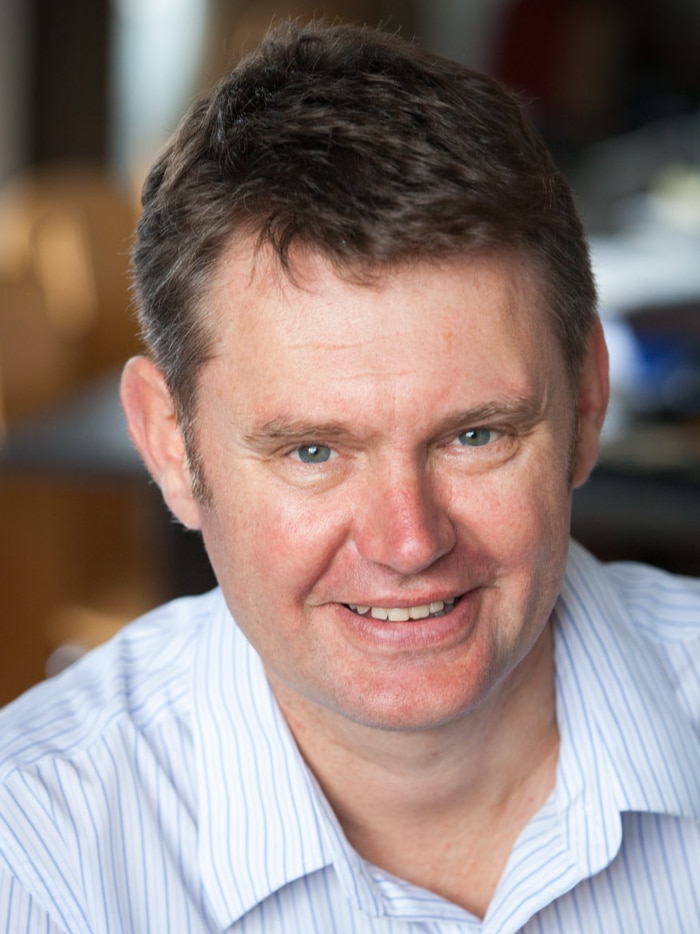 "But the reality is it's largely displacing renewable energy, which is zero emissions."
Mr Ogge said claims Woodside would reduce its emissions by 30 per cent by 2030 were 'very misleading'.
"That's just on the processing emissions — if you count the full life cycle emissions, they're only reducing their emissions by two per cent," he said.
"People would assume they're counting the combustion of the gas, but they're ignoring that.  It's greenwashing, really."
Green groups have been outraged by Woodside's move, with the Conservation Council of WA among those to express disappointment.
"Anybody who cares about our environment and the future of our planet will be disappointed and rightly angry that Woodside and BHP are insistent on pursuing this climate-destroying development," executive director Maggie Wood said.
Western Australia records about 92 million tonnes of carbon dioxide equivalent a year, according to the latest available figures from 2019.
The federal government considers the expansion of the gas sector crucial to economic growth and believes gas will maintain reliability in the electricity system as coal-fired power stations retire and renewable energy sources, such as wind and solar power, become dominant.