The NSW coal town at a crossroads
By Gavin Coote on AM with Sabra Lane ABC radio
There's already heated debate about energy and the future of coal in the lead up to the election, with both major parties spruiking their net zero plans while hoping not to alienate blue-collar voters.
But in one town that was built on coal and continues to rely on it for jobs, there's a growing sense that politicians are avoiding talking about the reality of its demise.
More Information
Featured:
Jeffrey Smith, Lithgow taxi driver and retired coal miner
Greg Mortimer, Lithgow resident and geologist
Germany's coal phaseout: The last farmer standing
Lützerath, in western Germany, is set to disappear for the sake of brown coal mining. All 90 residents have been relocated. Only one, Eckhardt Heukamp, vows to stay.
Heukamp's farm stands in sight of the excavators of Garzweiler's opencast mine. But the fourth-generation farmer doesn't want to sell up. "I want to live here — this is my home," the 57-year-old said.
Sixteen years ago, RWE began tearing down farms and houses in Lützerath to mine brown coal. Residents in the small, western German village received compensation and most of those affected have found a new home a few kilometers west. At the end of 2020, there were 14 residents left. Heukamp is the last person standing in what's now a ghost town. He's doing everything possible to oppose resettlement. A Higher Administrative Court in Münster will rule on his lawsuit against expropriation in a matter of weeks.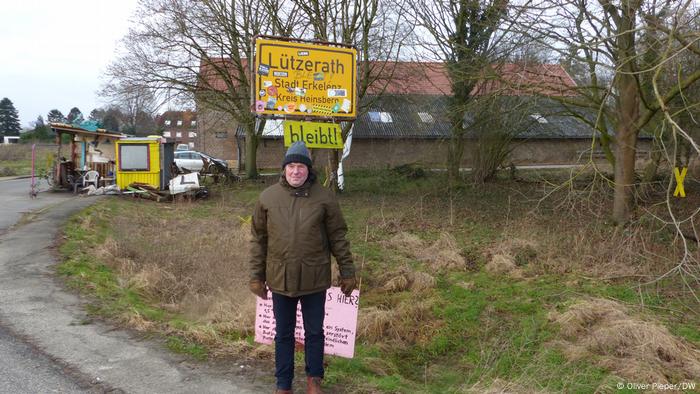 Eckhardt Heukamp has become an icon of resistance
Heukamp's fight against RWE becomes a political issue
The story of Lützerath is about much more than demolishing an 18th-century farm. Heukamp's opposition has long since become a political issue, revolving around a huge question: How serious is Germany about its coal phaseout? If the new government really wants to wind down coal-fueled energy by 2030 — instead of by 2038 as planned by the previous government — how much sense does it make to dismantle Heukamp's farm, even if the decision is legally sound?
Heukamp, who managed to save his ancestors' gravestone from the cemetery in the neighboring village, which has already been demolished, has turned to expert opinion to support his case. They say excavators could also dig around Lützerath.
"Technically this is feasible for RWE, but probably not that interesting for them economically speaking," he said.
A study by the German Institute for Economic Research also suggests that Lützerath should remain untouched if Germany wants to meet the target of the Paris climate agreement and limit global warming to 1.5 degree Celsius (2.7 F).
"We're not in the same situation as 30 years ago, where coal couldn't be replaced because there wasn't any renewable energy," Heukamp said.
"What's the point of expropriating people, tearing down villages, and dealing with higher CO2 emissions, even though we all know that this is no longer acceptable given the alternatives that are available?" he asked.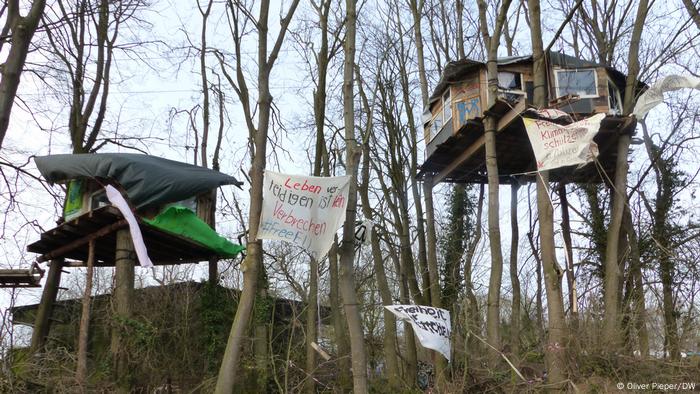 Police repeatedly tried to remove the treehouses built by activists in the Hambach Forest
Holding on till the bitter end
So why, Heukamp asks, should he leave Lützerath? Should he start a new life in the eastern state of Brandenburg, where RWE has offered him a farm as compensation?
"I'm a stranger there, and, because of the drought in Brandenburg, I can't expect the same yield for any crops. I'd have more hectares, but with significantly poorer soil," Heukamp said.
The farmer said none of RWE's offers were acceptable to him, which is one of the reasons why he prefers to continue growing grain in Lützerath, as he has done for many years. "Why should I settle for something that is not as good as I have it here?"
Heukamp's story drifts in and out of the German media. It's a classic story of the underdog taking on a seemingly hopeless battle against a powerful corporation. By now, he's a little annoyed by all the hype. And the worry is taking its toll. He has sleepless nights worrying about what will become of his farm."It would be mad to deny that this is a burden for me," he said. "But I started the fight, and now I'm going to see it through — until they carry me out of here."