from The Age
Dutton concedes Liberal Party in an 'identity crisis', willing to deal with teals
Opposition Leader Peter Dutton says the Liberal Party has an identity crisis and allowed itself to be defined by its opponents, including teal candidates that took many of its blue ribbon seats, at the last election.
But he is prepared to negotiate with them to form a minority government if the next election produces a hung parliament.
Dutton outlined an ambitious one-term strategy to return the Coalition to power,
which

included a focus on a credible path to reducing emissions
and has endorsed Josh Frydenberg, a potential future leadership rival, to win back the seat of Kooyong.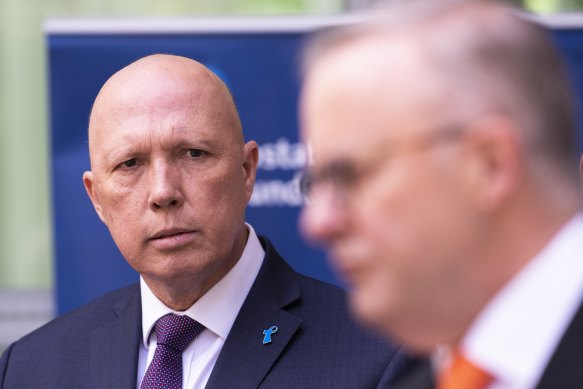 The opposition leader distanced himself from his predecessor Scott Morrison, who last week became the first former prime minister to be formally censured by the parliament over the multiple ministries saga, arguing "people see very clear differences between Scott and myself".
In a criticism of the former government, he said the Liberal MPs who lost their inner-city seats to progressive teal independents and the Greens were "swept out in a wave that wasn't of their making".
In an exclusive interview with The Sun-Herald and The Sunday Age, Dutton also nominated target seats across the country he hopes to win as part of the strategy to remain in opposition for only one term.
Dutton said that he had watched the Rudd and Gillard governments "unravel very quickly and we came within one seat in 2010". While acknowledging that many would be sceptical of his plan to become the first government to return to power after one term since 1931, he argued "the historical comparisons are pretty worthless".
"I think the proposition in 2025 is: are you better off today than you were three years ago under Labor? And I think very few Australians are going to be able to answer yes to that," he said.
"I think they [voters] will be looking for a government that can restore the economic policies that will allow them and their families to build their wealth again, to see a credible path to emissions reductions, to deal with the defence realities of 2025."
Asked how he would approach a hung parliament situation after the next election – a possible scenario given the knife-edge results in 2010, 2016 and 2019 – Dutton said: "My intention is to win a majority".
"And then if you're in a minority situation, of course you would negotiate like buggery to pull a government together because a minority Coalition government would be much better for our country than a minority Labor government," he said, adding that political leaders typically claim before elections they will not negotiate with the crossbench but afterwards, they do.
RELATED ARTICLE
Labor has 77 seats in the 151 member lower house which is a slender majority, but the Coalition holds just 58 seats. So while forcing Labor into minority would only require the loss of two seats, the Coalition would have to win a swag of seats to even be in striking distance of minority government.
Were that to occur, though, Dutton would initially seek support from crossbenchers including Dai Le, Bob Katter, Rebekha Sharkie, Helen Haines, and then look to the teal independents who claimed five seats in what was formerly the Liberal heartland in metropolitan Sydney, Melbourne and Perth.
To do that, the opposition leader will need to consider whether to adopt a more ambitious climate policy to take the polls, with Australia having to submit its 2035 emissions reduction target to the United Nations Framework Convention on Climate Change by 2025.
Dutton would not commit to matching the target that Albanese and Labor will set, but promised "our position that we take to the next election will be based on a credible pathway to reducing emissions, which is important for getting renewables into the system and to be able to firm up until the new technologies of batteries and storage become a reality".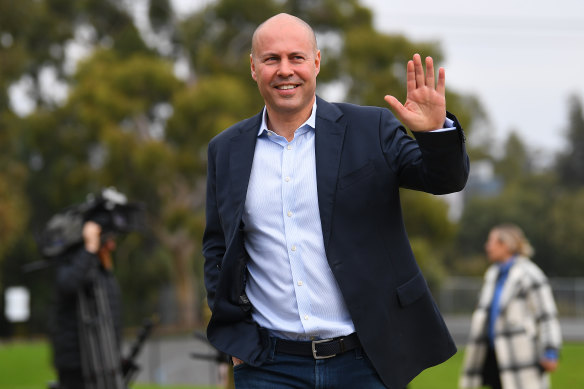 "If we see blackouts under this government over the next couple of years, if we see significant price increases, that will mean manufacturing goes offshore, or that families just can't turn their conditioners on or pensioners can't turn the heating on, then I think that the mood of the population is going to shift."
He committed to rebuilding the Liberal Party in Victoria – a state where he is not popular in many areas and the Liberal brand has been on the nose for years, winning just one state election since 1999.
"It's always been difficult for us and it just means I've got to work harder in Victoria," Dutton said.
"There are a number of seats there that I think you've got a lot of aspiration, and people want to see the Liberal Party standing up for them. And if we do that, and I believe we can, I think we'll be rewarded for that."
He singled out former treasurer Josh Frydenberg, who lost his seat of Kooyong to teal independent Monique Ryan, as someone he wanted to return to federal politics.
"I hope that Josh will run again in Kooyong. I think he's our best chance of winning that seat," he said.
"I think [Member for Kooyong] Monique Ryan will disappoint people and there's already a lot of feedback coming back from Kooyong that people haven't been able to form a connection with Monique at all," he said.
He also named other defeated MPs including Tim Wilson, Trevor Evans and Katie Allen as people he'd like to see return, and blaming the former government for their defeat.
RELATED ARTICLE
"They're all quality people and were very effective local members and got swept out in a wave that wasn't of their making, it wasn't a reflection on their work locally," he said.
Dutton also said the Liberal party was suffering from an "identity crisis" and had allowed itself to be defined by its opponents "including people from the Holmes a Court party", referring to the teal candidates backed by businessman Simon Holmes à Court.
He nominated target seats including McEwen in Victoria, Blair in Queensland, Boothby in South Australia, Solomon in the Northern Territory while in Western Australia, where the party lost four lower house seats and a senator, adding "it's essential that we rebuild our brand at the state level there and win seats back".
Lyons in Tasmania, Western Sydney and the NSW Central Coast will also be targeted.