Image from www.science.org: Historically observed temperature change (red) and atmospheric carbon dioxide concentration (blue) over time, compared against global warming projections reported by ExxonMobil scientists.
(A) "Proprietary" 1982 Exxon-modeled projections. (B) Summary of projections in seven internal company memos and five peer-reviewed publications between 1977 and 2003 (gray lines). (C) A 1977 internally reported graph of the global warming "effect of CO2 on an interglacial scale." (A) and (B) display averaged historical temperature observations, whereas the historical temperature record in (C) is a smoothed Earth system model simulation of the last 150,000 years.
———————-
Scientists working for oil giant Exxon Mobil accurately predicted global warming even as the company publicly contradicted them, according to a new report. ABC news
Key points:
Exxon Mobil scientists predicted correctly the world would warm about 0.2C per decade
The oil giant has been the subject of numerous lawsuits over its climate change statements
A spokesman said critics "misrepresent" facts and the company's position
ENTIRE SCIENTIFIC ARTICLE BELOW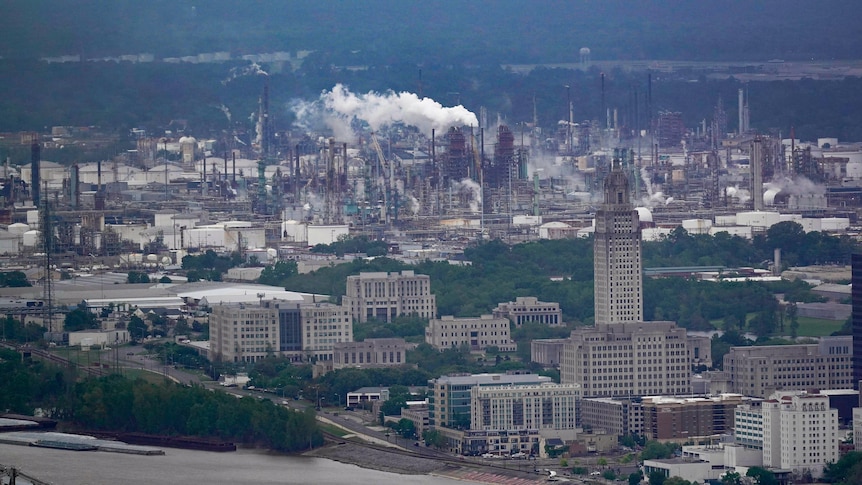 Exxon Mobil's scientists predicted global warming with more accuracy than some government scientists, a new report has found. (AP: Gerald Herbert)
The study, published in the journal Science, looked at research funded by Exxon that confirmed what climate scientists were saying by using more than a dozen different computer models to forecast the coming warming with precision equal to or better than government and academic scientists.
At the same time, the multinational oil and gas corporation publicly cast doubt that global warming was real and dismissed climate models' accuracy.
Exxon has said its understanding of climate change has evolved over the years, claiming critics were misunderstanding its earlier research.
Scientists, governments, activists and news sites, including Inside Climate News and the Los Angeles Times, several years ago reported "Exxon knew" about the science of climate change since about 1977 all while publicly casting doubt.
The new study has detailed how accurate the Exxon-funded research was.
Sixty-three per cent to 83 per cent of those projections fit strict standards for accuracy, and generally predicted correctly that the globe would warm about 0.2 degrees Celsius a decade.
The Exxon-funded science was "actually astonishing" in its precision and accuracy, said study co-author Naomi Oreskes, a Harvard science history professor.
But she added so was the "hypocrisy because so much of the Exxon Mobil disinformation for so many years … was the claim that climate models weren't reliable".
Study lead author Geoffrey Supran, formerly of Harvard and now environmental science professor at the University of Miami, said it was different than what was previously found in documents about the oil company.
"We've dug into not just the language, the rhetoric in these documents, but also the data," Professor Supran said.
"And I'd say in that sense, our analysis really seals the deal on 'Exxon knew'.
"It gives us airtight evidence that Exxon Mobil accurately predicted global warming years before, then turned around and attacked the science underlying it."
The paper quoted then-Exxon CEO Lee Raymond in 1999 as saying future climate "projections are based on completely unproven climate models, or more often, sheer speculation," while his successor in 2013 called models "not competent".
Exxon's understanding of climate science developed along with the broader scientific community, and its four decades of research in climate science resulted in more than 150 papers, including 50 peer-reviewed publications, company spokesman Todd Spitler said.
"This issue has come up several times in recent years and, in each case, our answer is the same: those who talk about how 'Exxon Knew' are wrong in their conclusions," Mr Spitler said in an emailed statement.
"Some have sought to misrepresent facts and Exxon Mobil's position on climate science, and its support for effective policy solutions, by recasting well intended, internal policy debates as an attempted company disinformation campaign."
Lawsuits target Exxon over climate damage
Exxon, one of the world's largest oil and gas companies, has been the target of numerous lawsuits that claim the company knew about the damage its oil and gas would cause to the climate, but misled the public by sowing doubt about climate change.
In the latest such lawsuit, New Jersey accused five oil and gas companies, including Exxon, of deceiving the public for decades while knowing about the harmful toll fossil fuels took on the climate.
Similar lawsuits from New York to California have claimed that Exxon and other oil and gas companies launched public relations campaigns to stir doubts about climate change.
In one, then-Massachusetts attorney-general Maura Healey said Exxon's public relations efforts were "reminiscent of the tobacco industry's long denial campaign about the dangerous effects of cigarettes".
Ms Oreskes acknowledged in the study she had been a paid consultant in the past for a law firm suing Exxon, while Mr Supran has gotten a grant from the Rockefeller Family Foundation, which has also helped fund groups that were suing Exxon.
The Associated Press receives some foundation support from Rockefeller and maintains full control of editorial content.
Oil giants including Exxon and Shell were accused in congressional hearings in 2021 of spreading misinformation about climate, but executives from the companies denied the accusations.
'It was clear Exxon knew what was going on'
University of Illinois atmospheric scientist professor emeritus Donald Wuebbles told The Associated Press in the 1980s he worked with Exxon-funded scientists and was not surprised by what the company knew or the models.
"It was clear that Exxon Mobil knew what was going on," Mr Wuebbles said.
"The problem is at the same time they were paying people to put out misinformation. That's the big issue."
He added there was a difference between the "hype and spin" of companies selling a product and an "outright lie …misrepresenting factual information".
"That's what Exxon did," he said.
Several outside scientists and activists said what the study showed about Exxon's actions was serious.
"The harm caused by Exxon has been huge," University of Michigan environment dean Jonathan Overpeck said.
"They knew that fossil fuels, including oil and natural gas, would greatly alter the planet's climate in ways that would be costly in terms of lives, human suffering and economic impacts.
"And yet, despite this understanding, they choose to publicly downplay the problem of climate change and the dangers it poses to people and the planet."
Cornell University climate scientist Natalie Mahowald asked: "How many thousands of lives have been lost or adversely impacted by Exxon Mobil's deliberate campaign to obscure the science?"
AP
---
Assessing ExxonMobil's global warming projections
Insider knowledge
For decades, some members of the fossil fuel industry tried to convince the public that a causative link between fossil fuel use and climate warming could not be made because the models used to project warming were too uncertain. Supran et al. show that one of those fossil fuel companies, ExxonMobil, had their own internal models that projected warming trajectories consistent with those forecast by the independent academic and government models. What they understood about climate models thus contradicted what they led the public to believe. —HJS
Structured Abstract
BACKGROUND
In 2015, investigative journalists discovered internal company memos indicating that Exxon oil company has known since the late 1970s that its fossil fuel products could lead to global warming with "dramatic environmental effects before the year 2050." Additional documents then emerged showing that the US oil and gas industry's largest trade association had likewise known since at least the 1950s, as had the coal industry since at least the 1960s, and electric utilities, Total oil company, and GM and Ford motor companies since at least the 1970s. Scholars and journalists have analyzed the texts contained in these documents, providing qualitative accounts of fossil fuel interests' knowledge of climate science and its implications. In 2017, for instance, we demonstrated that Exxon's internal documents, as well as peer-reviewed studies published by Exxon and ExxonMobil Corp scientists, overwhelmingly acknowledged that climate change is real and human-caused. By contrast, the majority of Mobil and ExxonMobil Corp's public communications promoted doubt on the matter.
ADVANCES
Many of the uncovered fossil fuel industry documents include explicit projections of the amount of warming expected to occur over time in response to rising atmospheric greenhouse gas concentrations. Yet, these numerical and graphical data have received little attention. Indeed, no one has systematically reviewed climate modeling projections by any fossil fuel interest. What exactly did oil and gas companies know, and how accurate did their knowledge prove to be? Here, we address these questions by reporting and analyzing all known global warming projections documented by—and in many cases modeled by—Exxon and ExxonMobil Corp scientists between 1977 and 2003.
Our results show that in private and academic circles since the late 1970s and early 1980s, ExxonMobil predicted global warming correctly and skillfully. Using established statistical techniques, we find that 63 to 83% of the climate projections reported by ExxonMobil scientists were accurate in predicting subsequent global warming. ExxonMobil's average projected warming was 0.20° ± 0.04°C per decade, which is, within uncertainty, the same as that of independent academic and government projections published between 1970 and 2007. The average "skill score" and level of uncertainty of ExxonMobil's climate models (67 to 75% and ±21%, respectively) were also similar to those of the independent models.
Moreover, we show that ExxonMobil scientists correctly dismissed the possibility of a coming ice age in favor of a "carbon dioxide induced 'super-interglacial'"; accurately predicted that human-caused global warming would first be detectable in the year 2000 ± 5; and reasonably estimated how much CO2 would lead to dangerous warming.
OUTLOOK
Today, dozens of cities, counties, and states are suing oil and gas companies for their "longstanding internal scientific knowledge of the causes and consequences of climate change and public deception campaigns." The European Parliament and the US Congress have held hearings, US President Joe Biden has committed to holding fossil fuel companies accountable, and a grassroots social movement has arisen under the moniker #ExxonKnew. Our findings demonstrate that ExxonMobil didn't just know "something" about global warming decades ago—they knew as much as academic and government scientists knew. But whereas those scientists worked to communicate what they knew, ExxonMobil worked to deny it—including overemphasizing uncertainties, denigrating climate models, mythologizing global cooling, feigning ignorance about the discernibility of human-caused warming, and staying silent about the possibility of stranded fossil fuel assets in a carbon-constrained world.
Abstract
Climate projections by the fossil fuel industry have never been assessed. On the basis of company records, we quantitatively evaluated all available global warming projections documented by—and in many cases modeled by—Exxon and ExxonMobil Corp scientists between 1977 and 2003. We find that most of their projections accurately forecast warming that is consistent with subsequent observations. Their projections were also consistent with, and at least as skillful as, those of independent academic and government models. Exxon and ExxonMobil Corp also correctly rejected the prospect of a coming ice age, accurately predicted when human-caused global warming would first be detected, and reasonably estimated the "carbon budget" for holding warming below 2°C. On each of these points, however, the company's public statements about climate science contradicted its own scientific data.
In this Review, we report and analyze all known projections of global mean surface temperature (hereafter "temperature") change reported by company scientists working for Exxon and/or for ExxonMobil Corp after Exxon's merger with Mobil Oil Corp in 1999. (Hereafter, we collectively refer to Exxon and ExxonMobil Corp as "ExxonMobil" or the "company.") Some projections resulted from models built or run in-house by ExxonMobil scientists, sometimes in collaboration with independent researchers. Others were produced by third parties and then discussed by ExxonMobil scientists in internal reports. Where relevant, we distinguish these provenances, but otherwise we collectively refer to these projections as "reported" by ExxonMobil scientists.
Materials and methods
We analyzed 32 internal documents produced in-house by ExxonMobil scientists and managers between 1977 and 2002, and 72 peer-reviewed scientific publications authored or coauthored by ExxonMobil scientists between 1982 and 2014. The internal documents were collated from public archives provided by ExxonMobil Corp (
28
),
InsideClimate News
(
29
), and Climate Investigations Center (
30
). The peer-reviewed publications were obtained by identifying all peer-reviewed documents among ExxonMobil Corp's lists of "Contributed Publications," except for three articles discovered independently during our research (
31
) [see supplementary materials (SM) section S2 for details on the assembly of the corpus]. These constitute all publicly available internal ExxonMobil documents concerning anthropogenic global warming of which we are aware, and all ExxonMobil peer-reviewed publications concerning global warming disclosed by the company.
Using manual content analysis, we identify all documents that reported climate model outputs of (i) a time series of projected future temperature, and (ii) future external radiative forcings [including at least atmospheric carbon dioxide (CO2) concentration] (see SM section S1.1 for coding details). For models driven by more than one forcing time series (i.e., for high- and low-CO2 scenarios as well as a central, "nominal" one), each resulting temperature time series is treated as a separate and individual projection. Our figures and tables therefore distinguish between "nominal," "high," and "low" model projections. By contrast, for a given CO2 scenario, temperature time series accompanied by uncertainty bars (corresponding, for example, to different model climate sensitivities) are treated as single projections with uncertainty bounds given by those uncertainty bars. This yields 12 documents published between 1977 and 2003, which contain 16 distinct temperature projections presented in the form of 12 unique graphs and one table (summarized in SM section S2.2). The 12 documents comprise seven internal memos (1977 to 1985) and five peer-reviewed papers (1985 to 2003). Twelve of the 16 temperature projections came from models built or run in-house by ExxonMobil scientists, typically in collaboration with independent researchers. Once identified, all original temperature and forcing projections are converted for analysis by digitizing graphs and extracting tables.
We assess each model projection over the period from the publication year of its containing document through 2019 (or through the final projected year, if earlier). First, we overlay all original temperature time series with observed temperature changes. Observations are aligned with respect to the earliest reference year(s) for which model projection data are available and, unless noted otherwise, reflect the smoothed annual average of five historical time series. Following Hausfather
et al
. (2020) and the Intergovernmental Panel on Climate Change (IPCC), we compare observations to model projections in two quantitative ways: (i) change in temperature versus time; and (ii) change in temperature versus change in radiative forcing (the "implied transient climate response," or iTCR) (
16
,
24
). The iTCR metric enables us to assess model performance while accounting for any differences in the assumptions about future radiative forcings driving the models. For each projected and observed temperature time series, per-decade temperature changes are calculated by fitting an ordinary least squares model over the projection period and multiplying the resulting gradient coefficient by 10. Analogously, iTCR is calculated by regressing temperature against anthropogenic radiative forcing over the projection period and multiplying the result by the forcing associated with doubled atmospheric CO
2
concentrations,
𝐹

2

𝑥

=

3.7

 

W/m

2

F2x=3.7 W/m2

(16):
For model projections, Δ𝐹anthroΔFanthro was based on explicit external forcing values when provided and was otherwise estimated from model CO2 concentration scenarios as
where 𝑝CO2pCO2 is the initial CO2 concentration (in parts per million) at the start of the projection period and 𝑝'CO2p'CO2 is the CO2 concentration during each subsequent year through 2019 (16). In the real world, of course, global temperature changes are driven by multiple natural and anthropogenic factors, including but not limited to CO2. Nevertheless, even when model projections are driven by CO2-only anthropogenic forcing scenarios, retrospectively comparing projections to observations offers a robust, independent, and established test of model skill. This is because (i) global warming has been almost entirely human-caused since the late 19th century (32, 33) and (ii) total anthropogenic forcing over the past 150 years has been, to first order, similar to the forcing of CO2alone, because the warming effects of other greenhouse gases and the cooling effects of other sources cancel one another out (34). For further discussion of the implications and limitations of model-versus-observation comparisons, see SM section S1.2.7. Observed Δ𝐹anthroΔFanthro values, meanwhile, were based on a 1000-member ensemble of observationally informed forcing estimates reported by Dessler and Forster (2018) (35).
Evaluated in terms of each of the above metrics, we deem model projections and historical observations to be consistent if and only if the 95% confidence intervals of the differences between the two include zero. As detailed in SM sections S1.2.2 and S1.2.3, these confidence intervals were calculated to reflect two sources of uncertainty: (i) statistical uncertainty in regression coefficients and (ii) structural uncertainty due to different model climate sensitivities, as and when indicated by error bars in projections reported by ExxonMobil scientists.
As an additional measure of performance, we calculate the "skill score" of each model by comparing the root-mean-squared errors of a model projection with those of a zero temperature change null hypothesis (
20
). For each projection, we calculate skill scores with respect to (i) each of the five observational temperature records for the temperature-versus-time metric and (ii) the 5000 estimates of
𝛥

𝑇

/

𝛥

𝐹

anthro

ΔT/ΔFanthro

for the iTCR metric. (See SM section 1.2 for details on graphical overlays and on calculation of consistency and skill scores and their accompanying uncertainties.)
Accurate and skillful climate modeling
Overall, ExxonMobil's global warming projections closely track subsequent observed temperature increases.
What ExxonMobil knew versus what they said
Our findings about the company's early understanding of climate science contradict many of the claims that the company and its allies have made in public.
Emphasizing uncertainties
It has been established that, for many years, Exxon's public affairs strategy was—as a 1988 internal memo put it—to "emphasize the uncertainty in scientific conclusions regarding the potential enhanced greenhouse effect" (
10
,
44
,
50
). However, our analysis shows that in their reports and briefings to management, ExxonMobil's own scientists did not particularly emphasize uncertainty; on the contrary, the level of uncertainty indicated by their global warming projections (bootstrapped 2σ standard error of the mean = ±21%) was commensurate with that reported by independent academics (±16%). Crucially, it excluded the possibility of no anthropogenic global warming; at no point did company scientists suggest that human-caused global warming would not occur. Nor did they conclude that the uncertainties were too great to permit differentiation of human and natural drivers. Yet publicly, ExxonMobil Corp made these claims until at least the early 2010s (see
Box 2
).
Denigrating climate models
ExxonMobil has often specifically claimed or suggested in public that climate models are "unreliable" (
51
). In 1999, for example, ExxonMobil Corp's chief executive officer (CEO) Lee Raymond said future climate "projections are based on completely unproven climate models, or, more often, sheer speculation." (
2
) In 2013, his successor, Rex Tillerson, called climate models "not competent" (
52
). In 2015, he stated: "We do not really know what the climate effects of 600 ppm versus 450 ppm will be because the models simply are not that good" (
53
). The company's own modeling contradicts such statements. Exxon's 1982 projection shown in
Fig. 1
(panel 3), for example, suggests that 600 ppm of atmospheric CO
2
would lead to 1.3°C more global warming than 450 ppm.
Quantifying ExxonMobil's broader climate knowledge
We gain additional insights into how ExxonMobil misled the public and other stakeholders by further evaluating the company's climate projections and comparing them to its public communications.
Mythologizing global cooling
Panel 1b of
Fig. 1
is a graph of the global warming "effect of CO
2
on an interglacial scale" originally published by climate scientist J. Murray Mitchell Jr. in March 1977 and reproduced by Exxon scientist James Black in a private briefing to the Exxon Corporation Management Committee 4 months later (
54
,
55
). This dataset was not included in our preceding analysis because its long time scale does not permit accurate digitization of its projected post-industrial anthropogenic global warming. Nonetheless, overlaying the original graph with the temperatures simulated by a modern Earth system model (in red) shows that Exxon scientists were accurate in warning their superiors of the prospect of a "carbon dioxide induced 'super-interglacial,'" as Mitchell Jr. termed it, that would render Earth hotter than at any time in at least 150,000 years (
56
). This shows that Exxon scientists correctly sided with the majority of the peer-reviewed literature in the 1970s that foresaw human-caused global warming overwhelming any possibility of global cooling and a (natural) ice age. [According to Peterson
et al
. (2008), only ~14% of the peer-reviewed literature between 1965 and 1977 anticipated global cooling (
56
).] It also shows that "the myth of the 1970s global cooling scientific consensus" cultivated in public by Mobil in the 1990s and ExxonMobil Corp in the 2000s (see
Box 3
) was false and contradicted the conclusion of their own scientists that global cooling was unlikely (
56
).
Claiming ignorance about discernibility
A second insight involves ExxonMobil's predictions as to when anthropogenic global warming would be discernible against the backdrop of natural climate fluctuations. Ten internal reports and one peer-reviewed publication spanning 1979–1985 offered quantitative estimates, with a median year of 2000 ± 5. (For each document, we infer the predicted year from its corresponding supporting quotations, summarized in table S4; see SM section S1.2.6 for method details.) This is consistent with what in fact occurred. In 1995, the IPCC declared that a human effect on global temperatures had been detected, a conclusion they reiterated with higher confidence in 2000 and in all subsequent IPCC assessment reports (
57
,
58
). In other words, ExxonMobil's understanding of climate science was sufficient not only to project long-term warming accurately but also to predict when it would be discernible. Yet, ExxonMobil publicly asserted that the science was too uncertain to know when—or if—human-caused global warming might be measurable. In 2004, for example, they stated that "scientific uncertainties continue to limit our ability to make objective, quantitative determinations regarding the human role in recent climate change," a claim that was contrary to the analysis of their own scientists (
59
).
Staying silent on stranded assets
A third insight concerns the "carbon budget"—the amount of CO
2
that can be added to the atmosphere—while holding anthropogenic global warming below 2°C. Five ExxonMobil studies published between 1982 and 2005 address the question. They conclude that to stabilize CO
2
concentrations below 550 ppm and/or limit warming to 2°C would impose a carbon budget of 251 to 716 gigatonnes of carbon (GtC) between 2015 and 2100 (
10
). For comparison, recent calculations have narrowed the uncertainty and place the figure at 442 to 651 GtC (
60
). Thus, ExxonMobil's calculations of the carbon budget were consistent with today's best estimates. Yet, to our knowledge, ExxonMobil did not alert investors, consumers, or the general public to this constraint.
Quantifying climate knowledge
The substantial body of literature documenting the history of climate lobbying and propaganda by fossil fuel interests has been described as a "vast blind spot" of major climate assessments—ignored, in particular, in all but the most recent IPCC assessment report (
61
–
63
). Yet bringing quantitative techniques from the physical sciences to bear on a discipline traditionally dominated by qualitative journalistic and historical approaches offers one path to remedying this blind spot. Here, it has enabled us to conclude with precision that, decades ago, ExxonMobil understood as much about climate change as did academic and government scientists. Our analysis shows that, in private and academic circles since the late 1970s and early 1980s, ExxonMobil scientists (i) accurately projected and skillfully modeled global warming due to fossil fuel burning; (ii) correctly dismissed the possibility of a coming ice age; (iii) accurately predicted when human-caused global warming would first be detected; and (iv) reasonably estimated how much CO
2
would lead to dangerous warming. Yet, whereas academic and government scientists worked to communicate what they knew to the public, ExxonMobil worked to deny it.
Acknowledgments
The authors thank Z. Hausfather (University of California, Berkeley) for technical guidance; P. Achakulwisut (Stockholm Environment Institute) for helpful discussions; and two anonymous peer reviewers.
Funding: The authors are supported by a Rockefeller Family Fund grant (G.S.) and Harvard University Faculty Development Funds (N.O.).
Author contributions: Conceptualization: G.S., S.R. Methodology: G.S., S.R. Investigation: G.S. Writing – original draft: G.S. Writing – review & editing: G.S., S.R., N.O. Visualization: G.S. Supervision: G.S., N.O. Funding acquisition: G.S., N.O.
Competing interests: The three authors have received speaking and writing fees, and S.R. and N.O. have received book royalties for communicating their research, which sometimes includes but is not limited to the topics addressed in this paper. G.S. and N.O. have offered their expertise pro bono to groups and organizations combating climate change, including briefing attorneys and coauthoring amicus briefs in climate lawsuits. N.O. has in the past served as a paid consultant to Sher Edling law firm, which has filed complaints against ExxonMobil Corp and other fossil fuel companies. However, Sher Edling played no role in this or any other study by the authors (including but not limited to study conceptualization, execution, writing, or funding).
Data and materials availability:
Raw data (original PDF internal documents and peer-reviewed publications) for this study cannot be reproduced in full owing to copyright restrictions. However, a catalog of all analyzed documents, and links to public archives containing these data, are provided in SM section S2.1. Raw data resulting from digitization of all analyzed original PDF datasets are deposited on Harvard Dataverse at
https://doi.org/10.7910/DVN/R4MOAE
(
87
). The code used to generate the results of this study is provided in the same repository.
References and Notes
1
N. Banerjee, L. Song, D. Hasemyer, J. H. Cushman Jr., Exxon: The road not taken.
InsideClimate News
(2015).
https://perma.cc/99YY-2MWV
.
2
S. Jerving, K. Jennings, M. M. Hirsh, S. Rust, "What Exxon knew about the Earth's melting Arctic,"
Los Angeles Times
, 9 October 2015;
https://perma.cc/NA86-5PWH
.
3
B. Franta, Early oil industry knowledge of CO2 and global warming. Nat. Clim. Chang.8, 1024–1025 (2018).
eLetters is an online forum for ongoing peer review. Submission of eLetters are open to all. eLetters are not edited, proofread, or indexed. Please read our Terms of Service before submitting your own eLetter.
No eLetters have been published for this article yet.