Chalk paint and police raids: why climate activists are under fire
Heavy police tactics, punitive bail conditions, private lawsuits and anti-protest laws are being used to silence dissent, human rights advocates say
As protesters obstructed coal trains bound for the Port of Newcastle for days, the local environment centre kept its distance.
But after two weeks of disruptions caused by Blockade Australia, police officers arrived at the Hunter Valley Environment Centre on a Friday afternoon last month with a warrant to search the premises and a nearby sharehouse.
How the Hunter environment centre became caught up in the raids which saw 19 people arrested remains unclear. Days before, New South Wales police had formed Strike Force Tuohy – a mobilisation of police resources usually reserved for organised crime groups such as outlaw motorcycle gangs – to target "disruptive protesters".
"We're collateral damage," says Georgina Woods, a member of the centre's organising committee.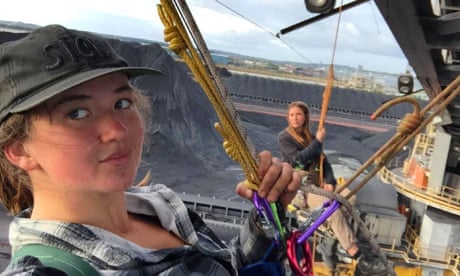 Founded in 2004 in coal country NSW, the centre's work mostly involved fact-finding and awareness campaigns about local conservation issues, water pollution and the monitoring of coal-ash dams left behind by shuttered power plants.
"It seems wildly over the top to us. They turned around and raided a local environment centre in response to a couple weeks of protesting taking place," Woods says.
The incident is the most recent example of what civil society groups have described as a growing "climate of repression" faced by environmental activists in Australia.
Though evidence is mostly anecdotal, a report released last week by the Human Rights Law Centre, Greenpeace Australia Pacific and the Environmental Defenders Office highlighted how the use of heavy police tactics, punitive bail conditions, private lawsuits, the introduction of anti-protest laws and inflammatory rhetoric from business and political leaders has combined to create an alarming trend.
Yusur Al-Azzawi, senior lawyer at the Human Rights Law Centre, who co-authored the report, says there has been no one single turning point, but the hostility to climate protests has grown in the past few years.