Our rankings are based on our opinion of the likelihood of the candidate achieving climate action if elected.
There is a combination of detailed hard data and 'Brains trust' assessment of whether the action or promise passes the pub test.
Our Electorate scorecard is based on:
Climate Action Score (CAS)- dark green.
9 criteria, explained on the website, that are scored for parliamentary voting record.
All candidates from parties that have previously had a seat in parliament can have a CAS as there have been no known instances of crossing the floor on a bill to vote against one's party for climate.
Climate Commitment Score (CCS) bright green.
For new parties and independents a CCS was generated based on 8 pieces of legislation that are available to fight climate change (that broadly reflect the CAS criteria). A survey was sent to candidates and compared to published policy to generate a score. This score is displayed but then weighted for ranking depending on Brain's trust opinion of candidate's prioritisation of climate action.
the final ranking is based on averaging of CAS with the weighted CCS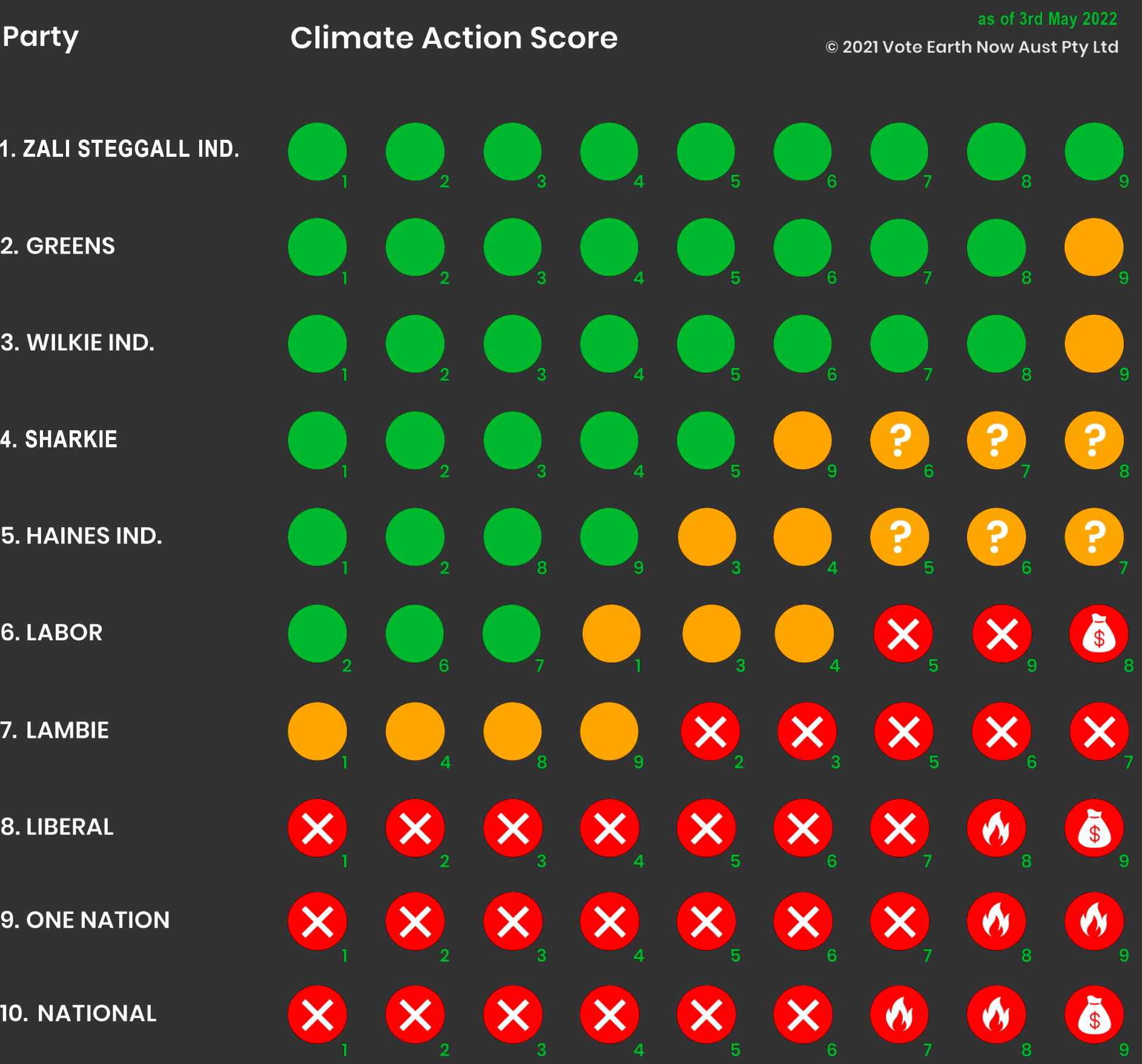 See site (voteearthnow.com) for details of how each criterion is assessed.
Our senate scorecard is based on:
the same CAS and weighted CCS system
90% of voters will number above the line – so no score has been given to un-affiliated senate candidates
nevertheless, if you are committed and have the knowledge to vote below the line our information is enough to assist you with the parties.
The simplicity of the displayed graphs is to make the user interface straightforward for the majority of voters.
Everyone may vote as they see fit. The numbers in the boxes are our suggestions for maximal achievable climate action.