Image: Daily Telegraph
The Battle for Sydney's Northern Beaches
Climate conscious independent MP Zali Steggall's excellent record on climate change, combined with strong community support, could help new independent Sophie Scamps catapult past fossil fuel backed Libs. And the formula of campaigning for climate action and political integrity is being replicated around the country.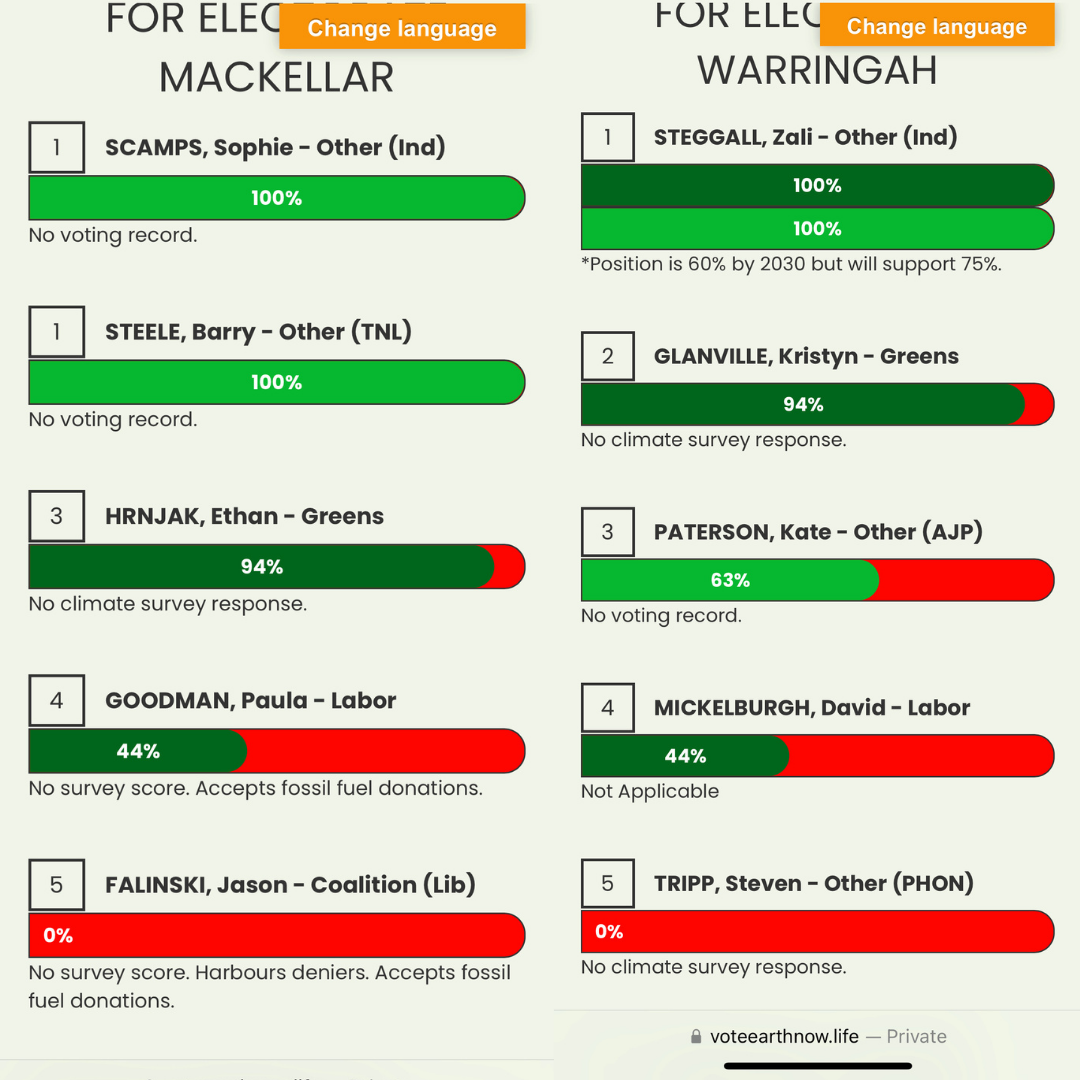 Image from Vote Earth Now
From Manly  Daily and Daily Telegraph:
'Independent's Day': federal poll candidates team up on Beaches
Independent MP Zali Steggall is helping a candidate in her bid to win a federal seat on the northern beaches as their two 'armies' of supporters join forces.
From Northern Beaches review:
"For too long the voice of Mackellar has been missing from the national debate, and as a community we have been ignored and taken for granted as the Liberals think this is a safe seat," she said.
At the 2019 federal election, the Liberals' Jason Falinski won the seat of Mackellar by a landslide, securing 53.01 per cent of the vote. However, there was a swing of more than 12 per cent towards the Independents.
Labor's Declan Steele secured 16.94 per cent of the Mackellar vote, followed by the Independent's Alice Thompson with 12.19 per cent, and The Greens' Pru Wawn with 11.48 per cent.
Dr Scamps said voters deserved an MP who would act on climate change, work to establish a federal anti-corruption watchdog and fight to help local, small businesses.
"I want to be a representative that our community can be proud of. Someone that, like Zali, will listen, consult, collaborate and work hard every day to secure a better future for our community and our country," she said.
Ms Steggall said action, not talk, counts most when it comes to leading the electorate.
"While the current member for Mackellar may say the right things when it comes to protecting the environment, on climate change and even on the PEP-11 oil and gas drilling licence, it is his actions that matter most," she said.
"Those in power have forgotten about the power of community, the power of people to make a difference in our democracy."
At the 2019 federal election in Warringah, Independent Zali Steggall got 43.46 per cent of total votes. This was followed by Liberals' Tony Abbott (39.01 per cent), Labor's Dean Harris (6.61 per cent) and The Greens' Kristyn Glanville at 6.13 per cent. Ms Glanville was elected as a first-time local councillor in the northern beaches in December, 2021.
From Steggall campaign material:
Last month Mr Morrison delivered a Federal Budget that cut funding for vital clean energy agencies by 35% over the next 4 years (see the table below). Compounding this, there is at least $13.7 billion for fossil fuels but there's no tax relief in sight for electric vehicles.
Right when we need to be ramping up climate action to address extreme weather and supercharge our economy, the Morrison Government is doing almost nothing to achieve progress this decade.
That tells you what's at stake in this election and why we need every voice and every vote possible in Parliament working towards job-creating, economy boosting, clean energy solutions now.