Image: ACSI
'A logical step': Finance industry backs push on mandatory climate disclosure
The financial services industry has strongly backed a government push to make disclosure of climate-related risks mandatory for companies and financial institutions, in legislative changes that could come into force for larger businesses as soon as next year.
The federal government on Monday started a consultation process with the industry as it works to introduce standardised, internationally aligned reporting requirements for businesses to report on the physical and transition risks from the impact of climate change.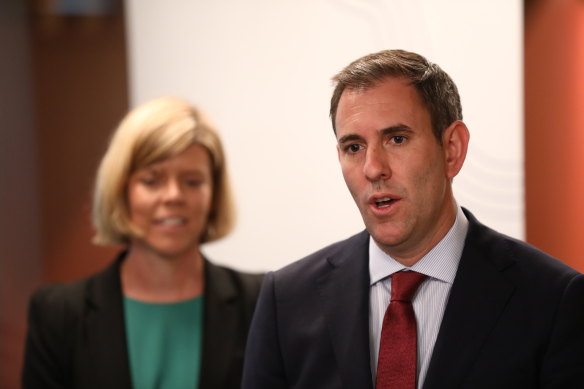 The move follows the passing of legislation in countries such as New Zealand and the United Kingdom which have made climate-related disclosures mandatory for certain businesses. The US, Switzerland and Singapore are also developing similar requirements, as international markets increasingly recognise the risk to the global financial system brought on by climate change.
If Australia lags other comparable jurisdictions in this area, it risks missing out on international investment, Treasurer Jim Chalmers told an Australian Sustainable Finance Institute forum on Monday.
He also said the government would be focusing on greenwashing, asking regulators to double down on efforts to crack down on dodgy sustainability claims from businesses.
The announcement to start developing a climate disclosure regime was welcomed on Monday by peak finance industry bodies, including the Financial Services Council, the Australian Council of Superannuation Investors and the Responsible Investment Association of Australasia.
Senior leaders from some of the countries largest financial institutions and investors, including the big four banks, super funds Aware Super, HESTA and Cbus, fund managers such as IFM Investors and Fidelity, and insurers Allianz and IAG, also endorsed a joint statement supporting the measures.
'Mandatory disclosure will help investors and customers make better decisions, regulators combat greenwashing, and businesses identify and manage sustainability-related risks and opportunities.'
"Mandatory disclosure will help investors and customers make better decisions, regulators combat greenwashing, and businesses identify and manage sustainability-related risks and opportunities," they said. "The disclosure rules should promote accurate, transparent, consistent reporting of information with quality and comprehensiveness improving over time."
The acting chief executive of the Financial Services Council said it had been calling for a mandatory climate risk reporting regime as the investment community increasingly recognised climate change as a financial risk to portfolios.
"A mandatory climate risk reporting regime is needed if Australia is to meet its national emissions reduction targets," said Spiro Premetis. "It will lead to better quality and more consistent disclosures across the economy and a more efficient allocation of capital toward sustainable investments."
The consultation paper Treasury released on Monday said key questions to be considered were the coverage, scope, frequency, format, timing, and international alignment of the reporting requirements. Which agency enforces the requirements will also need to be canvassed, as well as whether any obligations will clash with existing reporting obligations.
The consultation paper suggests a phased approach, where obligations initially apply only to large entities and financial institutions with the resources to respond to the new requirements.
The phased approach could commence in 2024, the paper says, with the first reports required for the 2024-25 financial year. The government is calling for views on the size of businesses that would be subject to the mandatory application of new requirements.
Australian Council of Superannuation Investors research released this year showed that the number of ASX 200 companies with net-zero commitments doubled in the past year, but found firms were not disclosing enough detail about their action to meet these targets.
RELATED ARTICLE
ACSI's report found 103 companies in the ASX 200 were adopting and disclosing using the Task Force on Climate-Related Financial Disclosure (TCFD), an international framework released in 2017 and used by thousands of companies across the world.
The International Sustainability Standards Board (ISSB), which was launched at the United Nations climate change conference last year, aims to produce the new global standard to replace a confusing mixture of climate disclosure practices and is building on the international framework.
The consultation paper suggests an Australian climate reporting requirement could be initially TCFD-aligned but able to reflect the international standards when they become available for adoption.
Louise Davidson, the chief executive of the Australian Council of Superannuation Investors, said sustainability risks were a challenge not just for companies but for investors such as super funds, and adopting mandatory climate reporting was a logical step towards a global baseline.
"Investors need access to reliable information to understand companies' exposure to physical and
transitional risks related to climate-change," she said. "The lack of a standardised approach to climate reporting means the quality of reporting varies wildly across companies."