Image: Fire-affected electorates that could swing this election.
These fire-affected electorates were marginal last election even before voters were hit with some of the nasty effects of climate change. They were on a knife edge. Now they could be up for grabs!
If you live in or know someone in these electorates then now is the time to use your vote power. Given that Australia has such a huge opportunity to make a difference (not just to ourselves but to the whole world) make sure you use your vote wisely. Educate friends and family how to vote using our scorecard so we can avoid 3 more years of missed opportunity.
The fires were unprecedented and related to a climate disaster of prolonged drought.  The El Niño La Niña cycle is hitting eastern Australia with more intensity and, with the current rain event, duration.  In California they are facing a continuation of a 40 year drought and are terrified that La Niña may go on for another year resulting in more megafires.
The risk to human life, animal life and habitat of these uncontrolled megafires
(e.g. Conjola fire)
which threatened Nowra, and all the coast south of there, as well as Mallacoota in Eden-Monaro is particularly appalling in these 4 electorates.
Mallacoota
  had a similar experience with prodigious mental and physical health effects.
Cowan and Pearce
electorates and Perth's north-eastern fringe saw the writing on the wall of fire stretching 110 kilometres wide. Embers rained across Perth, and ash fell even in coastal suburbs 50 kilometres away.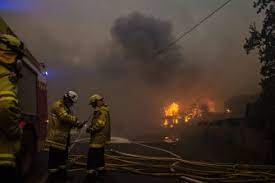 CREDIT: NICK MOIR
EXCERPT FROM SMH, Matt Wade and Natassia Chrysanthos
"Fire, flood and storm have left many in the Macquarie community feeling besieged and uncertain."
"It does actually feel, in the last couple of years – when you put COVID on top of it all – that our whole region has really battled to survive," she said.
Sarah Richards, a Hawkesbury city councillor, agreed that natural disasters had worn down the region since the last election. "There's no doubt it's been a significant three years," she said. "The only words to describe the community are exhausted and tired. There's been so much that has happened. If you start from the bushfires, that was quite significant. We've had four floods in two years."
Dr Simon Leslie in Gilmore fears "we have lost so many animals and if this rapid cycling of climate extremes continues we will have more intense fires in the next El Nino with the amount of regrowth that has already occurred with the monsoonal wet season we now experience. Habitat and animal numbers won't have time to recover and we risk numerous extinctions."
—————————————————————————-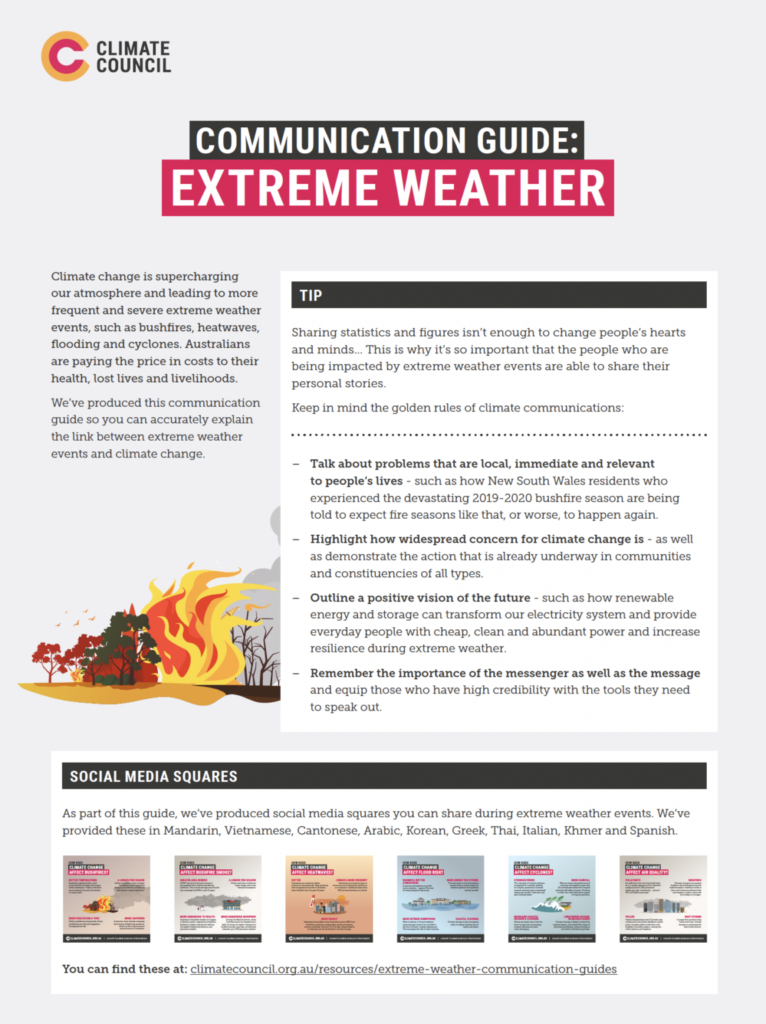 ---
The release earlier this month of IPCC's latest report on climate change drills home harder than ever both the urgency to put the brakes on climate change and the fact that humanity has the capacity to do so. So why aren't we?
It's a failure of leadership, Drawdown Labs director Jamie Alexander writes in "Solutions to the climate crisis will come from the multitudes," her latest op-ed at GreenBiz. And, she adds, it's also a call to the rest of us to spring into action.
"The climate solutions we have at our fingertips today come from and belong to the multitudes," Alexander writes. "They were born from farmers, builders, Indigenous knowledge holders, engineers, educators, foresters, healthcare workers and many more. And the multitudes will ultimately bring these solutions to scale."