Image: Australian government office of chief economist 2020. As Australia's key thermal coal customers adopt carbon neutrality goals, new project financing may be threatened as the "big four" banks in the world's second-largest thermal coal exporter continue to distance themselves from the increasingly contentious commodity.
'What went wrong here?': Big banks refuse coal king $1b debt refinance

Australia's big banks have turned their backs on the country's largest pure-play coal miner, refusing to refinance a billion-dollar debt in a major rebuff that will force Whitehaven Coal to source loans offshore, sending a worrying signal to other large coal producers and potentially speeding up the demise of the sector.
Whitehaven revealed its funding problems in a quarterly update on Monday, saying it has managed to source credit for mine rehabilitation, clean-up costs, port, rail and other activities, but could not to get a $1 billion finance facility renewed.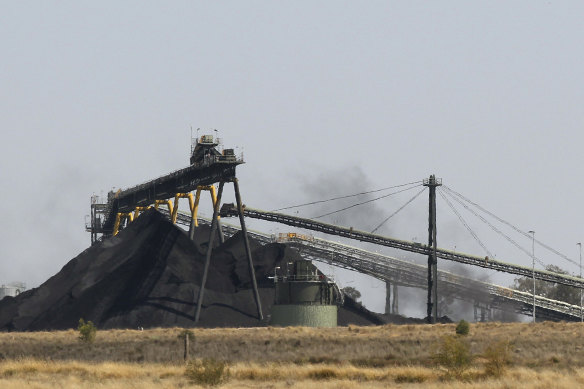 The debt revelation will put pressure on Whitehaven's ability to expand its coal mines, and surprised financial analysts who asked the company: "What went wrong here?"
The banks' decision not to back the company's thermal mines – where the most polluting form of coal is dug up to generate electricity in power stations – means Whitehaven will need to retain large amounts of cash on its balance sheet to operate the business while it looks for other loan sources.
"In your last production call, you stated discussions are ongoing and you were considering refinancing the company's $1 billion credit facility. This morning we found out this isn't happening. What went wrong here?" asked Stephen Henderson, an analyst at Shaw and Partners, in a conference call with executives on Monday.
RELATED ARTICLE
"We didn't renew our funding," Whitehaven's managing director and chief executive officer, Paul Flynn, confirmed. "Look, it's hard yakka. That's not news to anybody on the thermal [coal] side of things."
"There's no doubt that some of the banks have chosen not to participate in the refinancing as we go forward. Thermal coal has been less appealing from the bank's perspective in terms of how they want to decarbonise their lending portfolios," Flynn said.
A NAB spokesperson said it did not comment on individual customers, but the bank had a policy of reducing its exposure to thermal coal.
NAB spokesperson said …. the bank had a policy of reducing its exposure to thermal coal.
The company's chief financial officer, Kevin Ball, said the banks initially provided the $1 billion loan facility for the company's newest and largest Maules Creek coal mine in NSW's Gunnedah Basin, an open-cut project that started operating in 2015 and has enough reserves for 40 years of production.
"Anybody who's in thermal coal is going to be facing similar challenges in mobilising funding from traditional sources," Ball said. "It is increasingly difficult being a coal producer to attract external funding," he said, adding that the miner was instead focus on sourcing loans from the US debt capital markets next year.
Ball said the company had substantial cash reserves to weather the lack of finance. "It's fairly challenging when you go to a bank and say I've got $2.6 billion on the balance sheet and, 'Sir, can I borrow some money?' Because they'll look at you and go, 'Well why do you need that?' "
'It is increasingly difficult being a coal producer to attract external funding.'
Whitehaven chief financial officer Kevin Ball
Will van de Pol, the acting chief executive at activist investor group Market Forces, said the company's loan dilemma raised a "red flag" for its investors. "Whitehaven is being forced to finance its operations with cash that could otherwise be handed back to shareholders," van de Pol said.
"Banks have lost interest in funding Whitehaven's financially reckless and environmentally ludicrous coal expansion plans in the midst of a climate crisis. NAB and Westpac have finally turned their backs on Whitehaven, which means none of Australia's big four banks are funding the country's biggest pure-play coal miner. Even Japan's mega banks, some of the largest financiers of fossil fuels globally, have now ditched Whitehaven," he said.
Shares in the coal miner went on a tear last year, rising more than 246 per cent and peaking above $10 as coal prices soared amid supply disruptions from the Ukraine conflict and rising demand after the pandemic. Whitehaven shares closed at $6.83 on Monday, 2.7 per cent higher, after it revealed June quarter coal production was up 19 per cent from the March quarter and within its guidance range.
The company has previously told investors that the "structural change" of rapid decarbonisation will result in tapering demand for thermal seaborne coal through to 2050. It is increasingly having to tackle a vocal minority of shareholders concerned about its ongoing contribution to the global climate crisis.
Australia's coal exports through the Port of Newcastle rose in the June quarter, but total exports for last financial year were about 132 million tonnes, significantly lower than the previous year, the result of significant rain events and labour shortages.
Australia's coal exports through the Port of Newcastle … last financial year were … significantly lower than the previous year, the result of significant rain events and labour shortages.
"We expect coal prices to remain subdued during the northern hemisphere summer period while high coal stocks at end user facilities and cheaper alternatives, including gas, are available," Flynn said.
---
---
NAB says no to financing Whitehaven Coal
Media Release – Monday, July 17 2023
People power wins as Whitehaven Coal fails to renew $1billion rotating debt facility, previously financed by NAB and other banks
Today's quarterly announcement by Whitehaven Coal revealing that it's failed to renew its rotating debt facility signifies a win for people power, lives, livelihoods and ecosystems everywhere.
Move Beyond Coal – a grassroots community movement tackling Australia's biggest contribution to the global climate crisis – has campaigned relentlessly in more than 60 locations across the country to stop the National Australia Bank (NAB) and other Australian and international banks from renewing their $1billion combined loan to Whitehaven Coal since September last year.
NAB and other Whitehaven Coal investors' decision to cease financing this debt facility for Australia's largest undiversified coal company shows investors see financing new thermal coal as too risky.
This announcement sends a clear message to the coal industry, financial institutions and the government that the Move Beyond Coal movement is powerful, strategic and is stopping finance for climate-wrecking coal expansion in its tracks. 
This news is also a win for frontline communities including the Gomeroi people, farmers and land holders in NSW and QLD who have been fighting fossil fuel development and Whitehaven Coal's destructive mines and finance for decades.
Whitehaven Coal has no climate policy, no intention to phase out coal and is in fact actively expanding their coal operations with five new coal projects. The lack of investor confidence from Australian and international banks alike revealed today has shown Whitehaven that there is no financial support for new thermal coal projects.
Miree Le Roy, a business owner and former NAB business customer says "Wherever NAB has turned, they've seen and heard Move Beyond Coal — whether it be outside or inside their branches, at CBD Headquarters, on their social media, at NAB events, University careers fairs, sponsored AFL games, or on anonymous NAB staff webinars. You name it  — our people-powered movement was there.
Together we have exposed NAB's greenwash and called on the bank to stop funding Whitehaven Coal and their dangerous expansion plans, and it has clearly worked. As a former NAB business customer I'm relieved to hear NAB has listened to climate concerned citizens, staff and customers, to deter Whitehaven Coal from going ahead with their unconscionable expansion plans to accelerate the climate crisis.
Although NAB has listened to our people-powered movement this time, NAB is still the most regressive Australian bank and a climate laggard , increasing its funding of the fossil fuel industry to the tune of $4.5bn. The work is not over and our movement will continue to push financial institutions like NAB until there are no new climate-wrecking coal projects on the table."
Fahimah Badrulhisham an active member of the Move Beyond Coal movement said: "People power made this happen. By disrupting business as usual, our unstoppable movement is taking down the pillars of the Australian coal industry one by one.
Young people, people of faith and communities in more than 60 towns and cities across Australia took action as part of this campaign and will continue to work to expose companies, financial institutions and governments that support the coal industry in the midst of a climate crisis.
The science is unequivocal. To protect the lives and livelihoods of people across the globe, and to safeguard precious ecosystems, Australia must move beyond coal."