Images and text from IPCC press conference
Introduction from Climate and Health Alliance Australia Director Fiona Armstrong:
"For every day the Australian government delays on climate action, more people will get sick and more people will die," says Ms Fiona Armstrong, Executive Director of CAHA, Australia's peak body on climate and health.
Ms Armstrong said: "The report says Australia's 1-in-100-year floods could occur several times a year. None of us can cope with back-to-back Brisbane floods."
"Climate change is a huge, accelerating public health crisis. Australia must make much deeper cuts to emissions this decade, alongside the rest of the world, in order to save lives, prevent suffering and promote good health.
"Australia's health sector is calling for two things: a national plan on climate and health, and for substantial cuts in national emissions by 2030."
The AR6 report outlines multiple significant climate-related health impacts for people in Australia:
In Australia, there will be 20-70% more days over 35°C by 2030, putting people at risk of heat-related illnesses;
In Australian cities, excess heat-related deaths could quadruple in 2031-2080 compared with 1971-2020;
Heatwaves almost twice as likely in Australia if temperature rise reaches 2.0°C compared to 1.5°C;
Australia's "1-in-100 year floods" could occur several times a year;
The dependence of regional Australia on an "overstretched" volunteer base to respond to disasters makes it extremely vulnerable; and
Climate change will exacerbate the health inequities already faced by Aboriginal and Torres Strait Islander Peoples.
What is the IPCC?
The IPCC (Intergovernmental Panel on Climate Change) is the most authoritative international body on climate science. The IPCC was established in 1988 and is an essential component of the world's response to climate change. Its Assessment Reports – published every five to eight years – have been a driving force for action, heavily influencing international agreements.
What is the latest report (6AR WGII)?
Overall the Sixth Assessment Report (6AR) is the most comprehensive review of the state of knowledge on climate change ever completed, and contains over seven years' worth of new peer-reviewed science. It is an update to the IPCC's last such report published in 2014.
The latest contribution to the Sixth Assessment Report is from the IPCC's Working Group II's (WGII), which deals specifically with the damage that climate change is already causing, and is expected to cause into the future, what this means for communities and ecosystems, and what options we have to adapt to these changes.
If you're thinking, hey, didn't the IPCC release a report recently?, then, you're right. The different working groups each have different focuses and release their findings at different times. The report that was released in October last year from Working Group I focused on the physical science basis of climate change and included projections for future warming and impacts on the climate system. The next release from the Sixth Assessment is set to come out in April and will focus on methods for reducing emissions or removing them from the atmosphere.
Together these three reports make up the IPCC's Sixth Assessment report, which provides the best available science to all countries.
---
What are the main takeaways from this report?
Right now, inadequate global action means the Earth is heading towards catastrophic warming of over 2°C. If all countries copied Australia's dangerously weak response, we would be headed for warming in excess of 3°C – far beyond anything it is possible to adapt to. We cannot afford to delay. Governments must slash emissions this decade and rapidly transition away from burning fossil fuels.
The situation has deteriorated since the Fifth Assessment Report.
Climate change is accelerating and impacts of climate change are projected to continue – and to become more severe. The Sixth Assessment Report also considers the effect of complex interactions between the effects we feel from extreme events – as well as the ongoing impact of being hit by multiple extreme events over time – more completely than has ever been done before.
Over the coming decades, every region around the world will experience significantly worse impacts than we are already experiencing, which will result in compounding and cascading impacts on our health, livelihoods, food and water, as well as our national security.
Australia is one of the most vulnerable developed countries to climate impacts.
Working Group II's report contains a whole chapter on Australasia and makes clear what many Australians have been seeing in their day-to-day lives: climate change has already driven many extreme events in Australia with devastating impacts for communities and ecosystems.
These include the catastrophic 'Black Summer' wildfires in southeast Australia, repeated bleaching of the Great Barrier Reef, the loss of our kelp forests, heatwaves that are killing people in our cities, and droughts that are hitting Australian farming communities hard. This report makes it clear that this is only the beginning.
Moreover, we have neighbours in the Pacific and indeed communities within Australia, such as in the Torres Strait, for whom climate change is a truly existential challenge.
Australia is ill-prepared to cope with climate impacts today, let alone worsening impacts. Governments need to support communities and Australians already being harmed while also rapidly cutting emissions. Both are essential.
This is about Australian lives, livelihoods as well as our economic and national security. The disruption and costs to all parts of our society will be unprecedented – even compared to what we've experienced under COVID-19.
Physical and mental health
The report emphasises the adverse effects climate change has had and will continue to have on people's physcial and mental health around the world. You can find resources on managing eco-anxiety here, as well as a guide for parents managing children's eco-anxiety here.
The report highlights that repeated exposure to extreme events, like extreme heat and bushfire, is associated with decreased mental wellbeing in many ways. These mental health impacts include loss of sense of identity and place, heightened anxiety, risk of depression and suicide along with post-traumatic stress disorder and other adverse outcomes.
Climate change also affects the poorest and most vulnerable the most, as climate risks will exacerbate vulnerabilities and social inequalities. Examples of this can already be seen in Australia, such as the impact of heat in Western Sydney.
Action now to tackle emissions can help avoid the worst impacts.
The faster we cut emissions, the more climate damage we can avoid. Every fraction of a degree matters.
Scientists have been warning of these impacts for decades – now some damages are locked in – but it is not too late to draw a line in the sand.
This is a choice. Taking slow or inadequate action, like our federal government is, will result in more harm to more people. Adaptation to current and future climate impacts is essential, but can't compensate for slow action on emissions. Climate change is accelerating, and our response should match the scale and urgency of the situation and focus. Australia should aim to reduce emissions by 75% below 2005 levels by 2030 and reach net zero emissions by 2035.
REPORT SUMMARY
Report by numbers
270 Authors
41 % Women / 59 % Men
More than 34,000 scientific papers
43 % Developing countries 57 % Developed countries
67 Countries
675 Contributing authors
62,418 Review comments
Growing scientific knowledge gives us our best understanding yet
Simultaneous extreme events compound risks
Multiple extreme events that compound the risks are more difficult to manage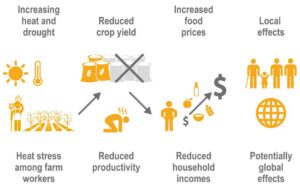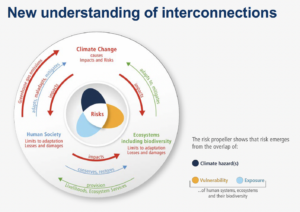 Climate change combines with unsustainable use of natural resources, habitat destruction, growing urbanization and inequity.
3.3 – 3.6 billion people live in hotspots of high vulnerability to climate change.
Overlapping challenges
• Limited access to water, sanitation and health services
• Climate-sensitive livelihoods
• High levels of poverty
• Weak leadership
• Lack of funding
• Lack of accountability and trust in government
Nature's crucial services at risk in a warming world:
Coastal protection
Tourism / recreation
Pollination
Food source
Health
Water filtration
Clean air
Climate regulation
Future global climate risks
Heat stress
Exposure to heat waves will continue to increase with additional warming.
Water scarcity
At 2 C, regions relying on snowmelt could experience 20% decline in water availability for agriculture after 2050.
Flood risk
About a billion people in low-lying cities by the sea and on Small Islands at risk from sea level rise by midcentury.
Food security
Climate change will increasingly undermine food security.
"Action on adaptation has increased but progress is uneven and we are not adapting fast enough."
There are increasing gaps between adaptation action taken and what's needed. These gaps are largest among lower income populations. They are expected to grow.
There are options we can take to reduce the risks to people and nature. Nature offers significant untapped potential.
Water management
Options on farms:
• Irrigation
• Rainwater storage, water-saving tech
• Moisture conservation in soils
Economic and ecological benefits; reduced vulnerability
Wider options:
• Securing drinking water
• Flood and drought risk management
• Working with nature, land-use planning
Effectiveness declines with increased warming
Improving food security
Effective options:
• Cultivar improvements
• Agroforestry
• Farm and landscape diversification
• Community-based adaptation
• Strengthening biodiversity
Wider benefits:
• Food security and nutrition
• Health and well-being
• Livelihoods
Transforming cities
By 2050 urban areas could be home to twothirds
of the world's population.
Effective options
• Nature-based and engineering approaches together
• Establishing green and blue spaces
• Urban agriculture
• Social-safety nets for disaster management
Wider benefits
• Public health improvements
• Ecosystem conservation
Adapting informal settlements
Effective options:
• Local knowledge
• Adequate capacity (information, funding, tools)
• Engagement of policymakers
• Involvement of residents in decision making
• Institutional change (accountability, commitment, transparency)
Maladaptation = Adaptation that results in unintended consequences.
The most disadvantaged groups are most affected by maladaptation.
There are limits to adaptation
• Even effective adaptation cannot prevent all losses and damages
• Above 1.5 C some natural solutions may no longer work.
• Above 1.5 C, lack of fresh water could mean that people living on small islands and those dependent on glaciers and snowmelt can no longer adapt.
• By 2 C it will be challenging to farm multiple staple crops in many current growing areas.
Financial constraints
• Current global financial flows are insufficient
• Most finance targets emissions reductions rather than adaptation
• Climate impacts can slow down economic growth
Accelerating adaptation
• Political commitment and follow-through across all levels of government
• Institutional framework: clear goals, priorities that define responsibilities
• Enhancing knowledge of impacts and risks improves responses
• Monitoring and evaluation of adaptation measures are essential to track progress
• Inclusive governance that prioritises equity and justice – direct participation
The wider benefits of adaptation
SDG 1: No poverty
For more than 3.4 billion people in rural areas: improved roads, reliable energy, clean water, food security
SDG 3: Good health and wellbeing
Green buildings, green spaces, clean water, renewable energy, sustainable transport – in cities
SDG 10: Reduced inequality
Policies that increase youth access to land, credit, knowledge and skills can support agri-food employment
SDG 14/15: Life on land & below water
Restored and connected habitats can provide corridors for vulnerable species
Our Future?
• Reduced climate risks – adaptation
• Reduced greenhouse gas emissions – mitigation
• Enhanced biodiversity
• Achieved the Sustainable Development Goals
This is Climate Resilient Development.
Climate Resilient Development
The solutions framework:
• Is considered across government and all of civil society
• Involves everyone – forming partnerships
• Draws on wide-ranging knowledge (scientific, Indigenous, local,
practical)
• Conserves and restores ecosystems
• Involves marginalized groups
• Prioritises equity and justice
• Reconciles different interests, values and world views
• Requires scaled-up investment and international cooperation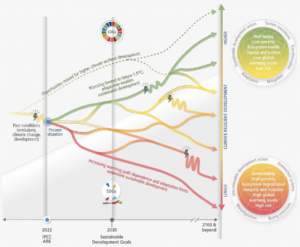 "Climate resilient development is already challenging at current global warming levels. The prospects will become further limited if warming exceeds 1.5 C and may not be possible if warming exceeds 2 C.
The science is clear.
Any further delay in concerted global action will miss a brief and rapidly closing window to secure a liveable future. This report offers solutions to the world."