The haunting images that impressed photo prize judges
South African photographer Gideon Mendel has won the prestigious portrait prize in this year's Head On photographic festival with an image highlighting the personal toll of last year's bushfires.
Mendel's photograph depicts sculptor Jenni Bruce standing among the ruins of her home in Upper Brogo, southern NSW.
"It was all gone," said Bruce. "I had a great workshop with tools I spent a lifetime gathering. I had a huge collection of paints and canvases and I was working on a new body of work to exhibit. It was just devastating to lose that amount of hard work."
Since documenting the effects of apartheid in South Africa in the early 1980s, Mendel's work has focused on global concerns such as climate change and the HIV epidemic.
The winning image in the landscape section, from Aletheia Casey also deals with the emotional and physical effects of the Black Summer bushfires.
"This work is a personal reaction to the Australian fires of 2019/2020, which almost destroyed my family home," she explained. "As I watched the fires from London, feeling powerless to help family and friends, I painted on prints from my last time in Australia with oils and inks. I reworked them in an attempt to implant my fear and powerlessness into the imagery."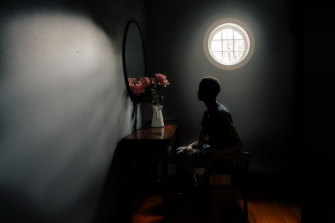 Melbourne-based photographer Chege Mbuthi was selected by judges in the student section for his painterly self-portrait entitled By The Front Door, which he captured during the first lockdown.
"As I found myself with more spare time, I began to experiment further with my portrait photography," he said. "I took the shot at the front of my home, which has beautiful soft light filtered through one window, which fell upon my silhouette. The simplicity of the image, combined with the minimal colour, created an aesthetically pleasing image."
This year's festival has already made news in advance of the winners' announcement, after vandals spray-painted 10 images from Horace Li displayed at Bondi Beach. The intention behind the attack was not immediately clear but Li suggested it would have been motivated by prejudice around the COVID-19 pandemic.
Images made by the 30 finalists will be displayed around Sydney for the next few weeks.