Image: Vecteezy. COP27 is meeting on the land of a fallen civilisation. (Ed)
---
Below excerpt from an email by Glen Klatovsky CEO of Climate Action Network Australia at COP27
Loss and Damage
In negotiations over L&D, developing and vulnerable blocs are aligned and their agenda here at COP27is that Parties:
must acknowledge there is no funding arrangement to provide a fit-for-purpose response to address L&D

agree in the next 10 days to establish a new fit-for-purpose arrangement under the UNFCCC Financial Mechanism

agree on a pathway through which to design and operationalise it.
New Zealand commits on Loss and Damage –
Long-Term Global Goal
The first draft of the decision text on the Second Periodic Review of the Long Term Global Goal which reiterates the latest IPCC findings, including the statement that to limit global warming to 1.5°C emissions have to be halved by 2030. The draft decision recognises that limiting temperature rise to 1.5°C is the only correct interpretation of the Long Term Global Goal agreed in Paris and urges all countries to support this.
CAN emphasises the need to ensure transition is equitable and that the primary task is a rapid and fair shift from fossil fuels.
Forest and Climate Leaders' Partnership
The
Forest and Climate Leaders' Partnership
was launched yesterday.
 This is critical given the important role halting deforestation and land degradation would play in achieving 1.5ºC. It is a fundamental step to hold Parties accountable for their commitments under the Glasgow Leader's Declaration on Forests and Land Use. 
There are caveats, though. There needs to be clearer commitment to
Indigenous Peoples and Local Communities (IPLCs), who are at the forefront of climate change. It is essential that IPLCs have secure land tenure, direct access to finance, and Free, Prior and Informed Consent. This is particularly critical for women who often have insecure tenure rights.
It was also worrying that many leaders
placed a strong emphasis on tree planting and carbon markets. Planting new trees cannot replace the carbon stock in primary forests in relevant timeframes
.
A
ction in the land sector must not be a substitute for a rapid fossil-fuel phase-out and must not delay urgent decarbonisation.
Article 6.4 of the Paris Agreement
Oh yes, the infamous Article 6. I am still just trying to get my head across it. 6.4 focuses on global carbon market(s) and
here
is a really good explainer.
Below is a cheat sheet on the concerns about 6.4 from CAN.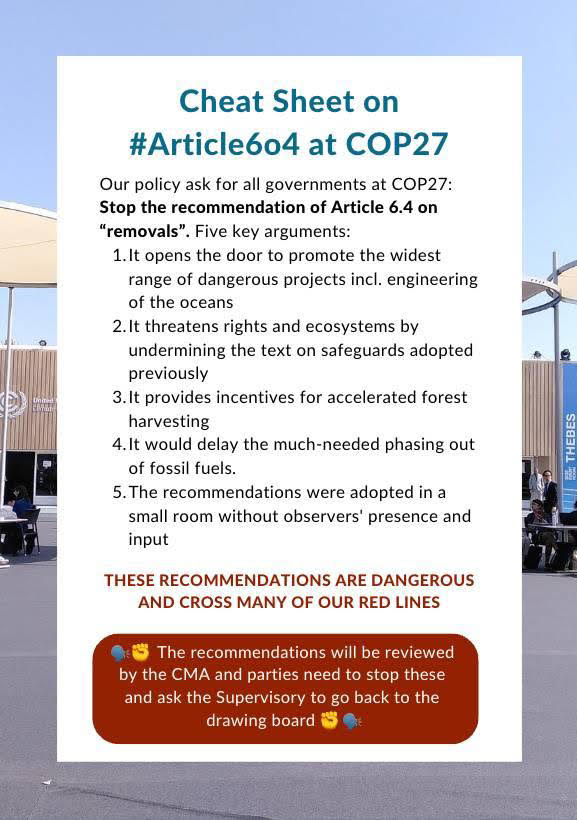 Greenwashing
The Net Zero commitments of non-state actors report is
here
.