1. South Australia breaks record by running for a week on renewable energy
2. Renewable energy to drive down household power bills over next 3 years
1. South Australia breaks record by running for a week on renewable energy
South Australia sourced an average of just over 100 per cent of the electricity it needed from renewable power for 6½ days leading up to December 29 last year – a record for the state and perhaps for comparable energy grids around the world.
The state's previous record was just over three days, says Geoff Eldridge, an energy analyst who runs the website NEMlog.com.au, which tracks the operations of the National Energy Market covering Australia's east-coast states and South Australia.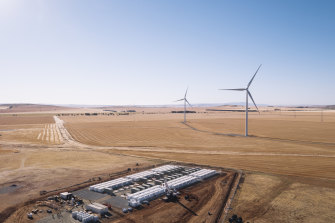 His analysis shows that for the six days identified, the state produced on average 101 per cent of the energy it needed from wind, rooftop solar and solar farms, with just a fraction of the energy the state used being drawn from gas, in order to keep the grid stable.
At times during the period, slightly less renewable energy was available and at other times renewable capacity was higher than needed, he says.
Bruce Mountain, director of the Victoria Energy Policy Centre, said he believed that aside from some small island grids such as those in Hawaii and Tasmania, it was likely that South Australia's six-day run on renewables was a record for a grid supporting an advanced economy.
During the unprecedented 156-hour renewable run, the share of wind in total energy supplied averaged 64.4 per cent, while rooftop solar averaged 29.5 per cent and utility-scale solar averaged 6.2 per cent, clean energy website RenewEconomy.com.au reported, using Mr Eldridge's data.
While Australia often receives poor international press regarding its climate policies, the nation's rapid uptake of renewables is also receiving international attention.
A recent episode of the podcast The Energy Gang, produced in the US by global energy consultants Wood Mackenzie, focused on Australia's success in incorporating renewables into its grid to total 24 per cent, highlighting the uptake of grid-scale batteries that both store renewable energy when it is not needed and help stabilise a system originally built to transmit power from huge providers such as coal power stations.
Fereidoon Sioshansi, a US-based energy analyst, says Australia has driven down the costs of renewables and in particular solar power, not only with so-called feed-in tariffs, which leave owners of solar systems paid well for the power they feed back to the grid, but also efficient regulation.
In parts of the US, state governments have introduced fees that slow solar uptake after lobbying from utility companies, he says.
Figures from the International Renewable Energy Agency show the cost of installing residential solar in Australia is similar to that of nations with far cheaper labour costs such as Thailand and Malaysia, and is much cheaper than in the US and Europe.
Professor Mountain said Dr Sioshansi was one of many international energy experts who had contacted him to ask about Australian and South Australian energy policy.
Professor Mountain said despite missteps over the years, South Australia's success in renewables was due to a consistent bipartisan determination to speed up energy transition. He said the state had advantages in its transition because it was a comparatively small market, with good connections to Victoria.
Mr Eldridge said his data showed significant "curtailment" during the six-day period, meaning renewables providers did not generate as much power as they could have. This suggests progress is being made towards the SA government's plan to become a net exporter of renewable power via interconnectors and a future green hydrogen industry, he said.
2. Renewable energy to drive down household power bills over next three years

Household power bills are set to fall over the next three years as state government commitments to cut greenhouse gases drive an influx of cheaper renewable power into the electricity grid.
The Australian Energy Market Commission's price trends report, released on Thursday, found average annual residential bills in New South Wales are expected to decrease by $50, or 4 per cent, by mid-2024. In Victoria, bills are expected to decrease by 7.7 per cent, or $99, and in south-east Queensland they will drop by $126, or 10 per cent.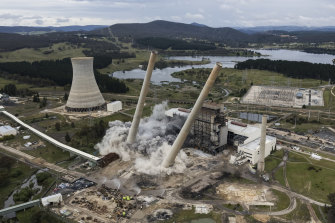 The AEMC report said the biggest driver of price falls over the next three years would come from cheaper power sources from wind and solar projects. These weather-dependent generators are set to be supported with on-call dispatchable power from large-scale batteries and gas.
"New generators, mainly renewables, continue to expand capacity and drive significant falls in wholesale prices. We are also seeing positive early evidence of how energy storage, like batteries, is helping to lower prices," the report said.
Across the national electricity grid there are 2671 megawatts of new solar power generation committed to come online until 2024, and 1393 megawatts of new wind power. The intermittent supply from these power generation sources will be backed up by 904 megawatts of additional gas-fired capacity and 470 megawatts of large-scale batteries.
AEMC chairwoman Anna Collyer said the findings showed that "integrating renewables in a smart way makes it possible to have both lower emissions and lower costs for consumers".
"We can now see far enough into the future to be confident that power prices paid by consumers will continue to trend downwards over the next three years, despite the staged exit of Liddell power station in 2022 and 2023, one of the biggest coal-fired generators in the national electricity market," Ms Collyer said.
"We have just under 2500 megawatts (of mostly coal power) expected to exit the grid over the next three years, there are almost 5500 megawatts of committed new large-scale generation and storage projects coming online over the same time period."
RELATED ARTICLE
Energy and Emissions Reduction Minister Angus Taylor said falling power prices were "critical" for families as the economy recovers from the COVID economic downturn.
"This report shows that government's support for new on-demand dispatchable generation, like Snowy 2.0 and the Hunter Power Project gas generator at Kurri Kurri, will put downward pressure on prices as ageing thermal generation retires."
In a separate report released on Wednesday, the Australian Bureau of Statistics found that the amount of electricity generated by renewables in financial year 2020 had grown by 15 per cent on the previous 12 months.
Commenting on the ABS data, Climate Council senior researcher Tim Baxter said the growth in renewables is "being driven largely by state and territory governments' energy policies, backed with enthusiastic private investment".
"The 15 per cent growth is a huge increase in renewable supply, which is part of the literally exponential growth of renewables in Australia," Mr Baxter said.
"Renewables keep going from strength to strength in the sunniest continent on the planet, producing cleaner, cheaper reliable energy."