1. South Australia makes major emergency declaration over storm damage and flooding
2. ADF will need more resources to deal with climate and regional security crises
3. How climate change will cause more simultaneous disasters
South Australia makes major emergency declaration over storm damage and flooding
Posted , updated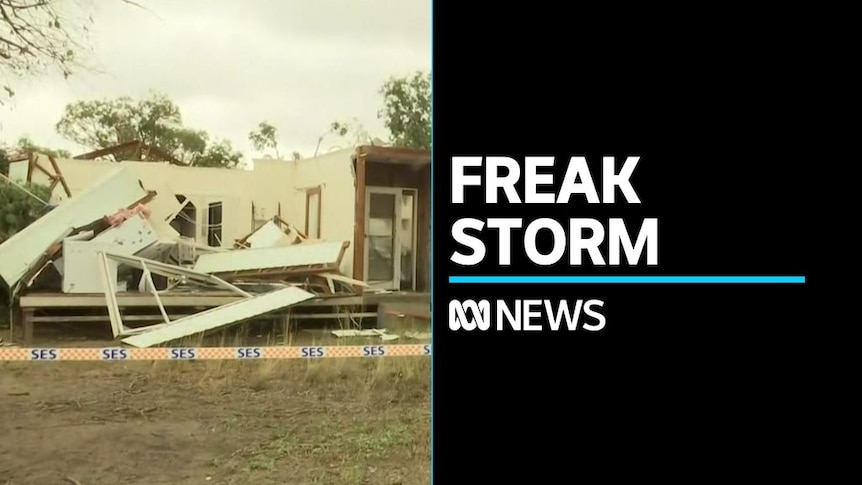 The South Australian government has declared a major emergency, with flooding and storm damage affecting parts of the state.
Key points:
SA has declared a major emergency following significant flood damage
Western Australian and Northern Territory supermarkets are facing shortages due to damaged road and rail networks
More thunderstorms are forecast for this weekend
Houses have been destroyed and major freight routes cut off following high rains and storms in recent days.
The Premier Steven Marshall said the emergency declaration would last 14 days.
Mr Marshall said it will give the State Coordinator, Police Commissioner Grant Stevens, additional powers to address heavy vehicle movement, food security, and other issues affecting isolated remote communities.
"It is fair to say that we are now understanding the full magnitude of the issues associated with the extreme weather here in South Australia," he said.
SA is already under a major emergency declaration for COVID-19.
Commissioner Stevens said the declaration was appropriate given the extent of the significant damage, including major disruptions to road and rail networks connecting the state to Western Australia and the Northern Territory.
Widespread damage was caused by about 50 millimetres of rain falling in five hours.
SES chief officer Chris Beattie said the risk in the state's far north was not over.
"We are expecting more thunderstorms and severe weather across the weekend," he said.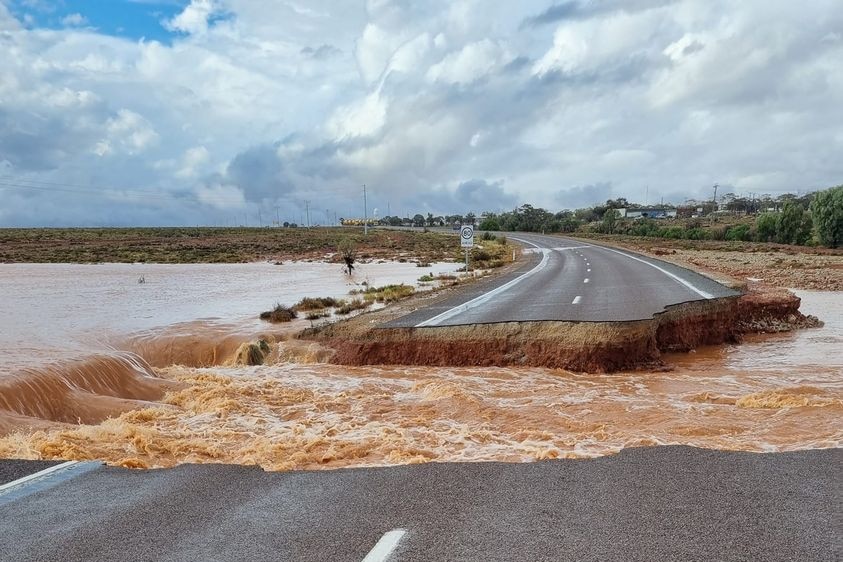 Mr Beattie said 20 municipalities had reported weather damage, the most extensive on the Eyre Peninsula.
He also said repairs to the rail network could take longer than expected due to the weather forecast.
"At this stage ARTC [Australian Rail Track Corporation] are forecasting 18 days to repair the damage, however with the severe weather forecast over the next four or five days that could well be extended," he said.
The damage to freight routes has led to shortages on supermarket shelves in the Northern Territory and Western Australia, with purchase limits introduced for Territorians.
Mr Beattie said plans were underway for a heavy-vehicle route to the Northern Territory via Bourke and Mount Isa.
"Obviously that adds a couple of days' travel for that freight, but it should restore at least road transport freight into Darwin," he said.
Mr Beattie said contingency planning was also underway to deal with potential supply issues in the South Australian town of Coober Pedy, which sits on the flood-affected Stuart Highway.
ADF will need more resources to deal with climate and regional security crises
The capacity of the Australian Defence Force and other key agencies must be increased urgently to enable them to deal simultaneously with climate-driven disasters at home and in the region while countering worsening security threats, food shortages and mass people movements.
This grim warning is delivered by climate change specialist Robert Glasser in a report, The rapidly emerging crisis on our doorstep, released by ASPI today. An internationally respected climate specialist, Glasser was previously the United Nations Secretary-General's Special Representative for Disaster Risk Reduction.
He now heads ASPI's new Climate and Security Policy Centre established to help increase Australians' understanding of the cascading effects of rapidly increasing temperature rises including flooding, hunger caused by a sharp reduction in crop sizes and declining fish stocks, conflict and mass people movements.
Glasser says Australia urgently needs to think about political, economic and security tipping points generated by climate change. 'Any one of the increasing risks would be serious cause for concern for Australian policymakers, but the combination of them, emerging nearly simultaneously, suggests that we're on the cusp of an unprecedented and rapidly advancing regional crisis.'
One of the areas likely to be worst hit by accelerating climate change will be maritime Southeast Asia (MSEA), directly to Australia's north, and Glasser says the emerging regional impacts could overstretch the nation's operational capacities to act, such as by creating demands on the ADF to simultaneously support disaster relief at home while responding to fast-growing regional security challenges.
Glasser says the MSEA region is exceptionally affected by the hazards that climate change is amplifying. 'Those hazards will not only exacerbate the traditional regional security threats that currently dominate military and foreign policy planning in Canberra, such as the rise of China, terrorism and separatist movements, but also lead to new threats and the prospect of multiple, simultaneous crises, including food insecurity, population displacement and humanitarian disasters that will greatly test our national capacities, commitments and resilience. So these hazards have serious implications for regional economic development, political stability and security.'
He says there's a growing realisation in Australia and in its Quadrilateral Security Dialogue partners, the United States, Japan and India, that climate change will have an increasingly serious impact on regional security.
'The posture, training and capabilities of the ADF will need to change so that it can be part of Australia's response to more frequent, higher impact regional natural disasters. Its capability set will also need to evolve to equip it to operate at greater scale and in places affected by large natural disasters,' he says.
MSEA faces a dangerous constellation of simultaneous climate hazards, says Glasser. The sea level there is rising four times faster than the global average, driven by climate change and other factors. It has the world's highest average sea-level rise per kilometre of coastline and the largest coastal population affected by it.
Climate tipping points are thresholds that, once exceeded, trigger cascading impacts, such as the sudden release of massive amounts of methane gas from thawing arctic permafrost, which would greatly accelerate warming.
Australia must ensure it has the capacity to lead regional responses to the many natural disasters emerging from a warming climate, Glasser says.
'We can't wait for the severity of the situation on our northern doorstep to become obvious before we act, as the pace of climate change impacts is rapidly accelerating and many of our responses to those threats require long lead times to identify, plan and implement, particularly as they will require multilateral as well as national responses.'
The Bureau of Meteorology has begun supporting national security agencies to identify the potential impacts of adverse weather and climate on food security, refugee migration and conflict.
Glasser says this must become part of a much wider, whole-of-government process involving Defence, Home Affairs, Foreign Affairs and Trade, CSIRO, Health, Agriculture, and other departments and agencies.
US President Joe Biden's whole-of-government approach to climate change demonstrates what can be done when the issue is put at the centre of national security planning, Glasser says.
Australia should identify priority investments to build the capability within Defence, Foreign Affairs, the intelligence agencies, Home Affairs and other departments to recognise emerging climate impacts and establish an ongoing process to re-evaluate the evolving strategic equation in the light of regional developments and as our capacities and understanding improve.
With that greater knowledge, we'll also be in a better position to identify opportunities, such as aid interventions, to reduce the risk at critical points but also to make investments that build our capacity for regional stabilisation and humanitarian response missions.
'It's becoming increasingly clear that the Australian aid program will need to scale up its efforts to strengthen regional resilience to climate change, particularly in MSEA. Recent compelling analysis suggests that helping less developed countries to adapt to climate change can reduce the likelihood of conflict and forced migration,' says Glasser.
MSEA is also a hotspot for cyclones, which strike the Philippines more often than any other country. The warming climate is making these cyclones more powerful and, together with sea-level rise, is rapidly amplifying storm surges and flooding.
'In only a matter of decades, what has historically been a 1-in-100-year extreme flood will become an annual event across much of the region,' Glasser says.
Regional temperatures may rise by 1.5°C within a decade, driving extreme weather which will have major impacts on food security, the availability of water, and disease. The region will also experience more frequent swings from extreme heat and drought to severe floods.
Crop yields will be reduced by rising temperatures, changes in rainfall, the expansion of the reach of crop pests and shifts in predators that keep crop pests in check. The number and duration of heatwaves are already increasing, with hundreds of millions of people already exposed to extreme heat, including in the agriculture sector. Malaysia, Indonesia and the Philippines are among the most at risk of the heat-related loss of labour capacity.
Scientists have determined that by 2040, at 2°C of warming, Southeast Asia's per capita crop production may decline by a third. At the same time, it will become increasingly difficult for nations to import food to feed their populations.
Fish stocks are declining as they move away from warming waters and as the coral reefs that provide their breeding areas collapse.
Glasser says regional nations have made enormous economic progress in recent decades, with the Indonesian economy projected to become the world's fourth largest by 2050. 'But there remain significant vulnerabilities that will become sources of instability as the climate continues to warm, particularly in Indonesia and the Philippines, where about a quarter of the countries' populations live on less than US$3.20 per day.'
How climate change will cause more simultaneous disasters
Published  20 November 2018 at 3:46pm

, updated  at 
By 2100 some parts of the world could be hit by as many as six crises at a time.
The devastation left in the wake of the earthquake at Palu. Source: AAP
Global warming is posing such wide-ranging risks to humanity, involving so many types of phenomena, that by the end of this century some parts of the world could face as many as six climate-related crises at the same time, researchers say.
This chilling prospect is described in a paper published Monday in Nature Climate Change, a respected academic journal, that shows the effects of climate change across a broad spectrum of problems, including heat waves, wildfires, sea level rise, hurricanes, flooding, drought and shortages of clean water.
Source: AAP
Such problems are already coming in combination, said the lead author, Camilo Mora of the University of Hawaii at Manoa. He noted that Florida had recently experienced extreme drought, record high temperatures and wildfires — and also Hurricane Michael, the powerful Category 4 storm that slammed into the Panhandle last month. Similarly, California is suffering through the worst wildfires the state has ever seen, as well as drought, extreme heat waves and degraded air quality that threatens the health of residents.
Things will get worse, the authors wrote. The paper projects future trends and suggests that, by 2100, unless humanity takes forceful action to curb the greenhouse gas emissions that drive climate change, some tropical coastal areas of the planet, like the Atlantic coast of South and Central America, could be hit by as many as six crises at a time.
That prospect is "like a terror movie that is real," Dr. Mora said.
Source: AAP
The authors include a list of caveats about the research: Since it is a review of papers, it will reflect some of the potential biases of science in this area, which include the possibility that scientists might focus on negative effects more than positive ones; there is also a margin of uncertainty involved in discerning the imprint of climate change from natural variability.
New York can expect to be hit by four climate crises at a time by 2100 if carbon emissions continue at their current pace, the study says, but if emissions are cut significantly that number could be reduced to one. The troubled regions of the coastal tropics could see their number of concurrent hazards reduced from six to three.
The paper explores the ways that climate change intensifies hazards and describes the interconnected nature of such crises. Greenhouse gas emissions, by warming the atmosphere, can enhance drought in places that are normally dry, "ripening conditions for wildfires and heat waves," the researchers say. In wetter areas, a warmer atmosphere retains more moisture and strengthens downpours, while higher sea levels increase storm surge and warmer ocean waters can contribute to the overall destructiveness of storms.
Source: AP
---
In a scientific world marked by specialization and siloed research, this multidisciplinary effort by 23 authors reviewed more than 3,000 papers on various effects of climate change. The authors determined 467 ways in which those changes in climate affect human physical and mental health, food security, water availability, infrastructure and other facets of life on Earth.
The paper concludes that traditional research into one element of climate change and its effects can miss the bigger picture of interrelation and risk.
Climate change also has different ramifications for the world's haves and have-nots, the authors found: "The largest losses of human life during extreme climatic events occurred in developing nations, whereas developed nations commonly face a high economic burden of damages and requirements for adaptation."
People are not generally attuned to dealing with problems like climate change, Dr. Mora said. "We as humans don't feel the pain of people who are far away or far into the future," he said. "We normally care about people who are close to us or that are impacting us, or things that will happen tomorrow."
And so, he said, people tend to look at events far in the future and tell themselves, "We can deal with these things later, we have more pressing problems now." But, he added, this research "documented how bad this already is."
The paper includes an interactive map of the various hazards under different emissions scenarios for any location in the world, produced by Esri, which develops geographic information systems. "We see that climate change is literally redrawing the lines on the map, and revealing the threats that our world faces at every level," said Dawn Wright, the company's chief scientist.
Michael E. Mann, a climate scientist at Pennsylvania State University who was not involved in the paper, said it underscored the urgency for action to curb the effects of climate change and showed that "the costs of inaction greatly outweigh the costs of taking action."
Dr. Mann published a recent paper suggesting that climate change effects on the jet stream are contributing to a range of extreme summer weather events, such as heat waves in North America, Europe and Asia, wildfires in California and flooding in Japan. The new study, he said, dovetails with that research, and "is, if anything, overly conservative" — that is, it may underestimate the threats and costs associated with human-caused climate change.
A co-author of the new paper, Kerry Emanuel of the Massachusetts Institute of Technology, hailed its interdisciplinary approach. "There's more than one kind of risk out there," he said, but scientists tend to focus on their area of research. "Nations, societies in general, have to deal with multiple hazards, and it's important to put the whole picture together."
Like military leaders developing the capability to fight wars on more than one front, governments have to be ready to face more than one climate crisis at a time, Dr. Emanuel said.
Dr. Mora said he had considered writing a book or a movie that would reflect the frightening results of the research. His working title, which describes how dire the situation is for humanity, is unprintable here. His alternate title, he said, is "We Told You So".