Twenty-two institutions have been shut down as part of proposed month-long campaign
A wave of student occupations has shut down schools and universities across Europe as part of a renewed youth protest campaign against inaction on climate breakdown. Twenty-two schools and universities across the continent have been occupied as part of a proposed month-long campaign.
In Germany, universities were occupied in Wolfenbüttel, Magdeburg, Münster, Bielefeld, Regensburg, Bremen and Berlin. In Spain, students in occupation at the Autonomous University of Barcelona organised teach-outs on the climate crisis. In Belgium, 40 students occupied the University of Ghent. In the Czech Republic, about 100 students camped outside the ministry of trade and industry. In the UK occupations were under way at the universities of Leeds, Exeter and Falmouth.
The most radical actions were taking place in Lisbon, Portugal, where youngsters occupied seven schools and two universities. On Thursday, occupying pupils forced one high school to remain closed for a third day, while students at the University of Lisbon's faculty of humanities barricaded themselves in the dean's office.
Young people also stopped traffic in the Portuguese capital with street blockades in solidarity with the occupations. The radical action comes despite harsh responses from teachers at one school who called police to evict pupils who began occupations last week.
The blockades and occupations are part of an extended campaign under the banner "End Fossil: Occupy!", which aims to build on and escalate the youth climate strike movement that was previously at its strongest during 2019's mass climate mobilisations.
A statement by the campaign read: "End Fossil: Occupy! is radicalising the youth climate movement in tactics and demands. Occupations instead of strikes.
A statement by the campaign read: "End Fossil: Occupy! is radicalising the youth climate movement in tactics and demands. Occupations instead of strikes. End the fossil economy instead of 'listen to the science'. End Fossil: Occupy! is reigniting the fire of the youth climate movement last seen in 2019."
It is the second time the campaign has called for a wave of occupations, with 50 schools and universities occupied between September and December last year, including three that were violently evicted by riot police. Organisers claim that previous wave of protest spurred Barcelona's university to make a module on the climate and ecological emergency mandatory for all students.
Organisers hope the latest wave will recapture and recreate the radicalism of May 1968, when anti-imperialist protests by university students in Paris were joined by striking workers and precipitated a wave of revolt across the continent.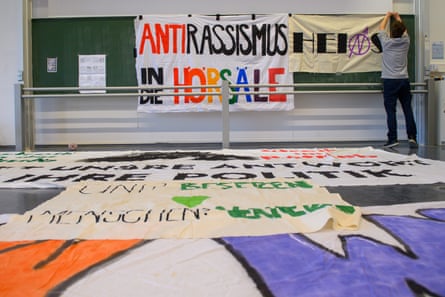 "We start as students occupying schools and universities, but we need all of society to take radical action with us to end fossil [fuels]," the campaign said. "Only with as a mass movement that involves all of society taking responsibility to stop the fossil fuel era can we truly change the system.
"Anyone from any part of the world who wants to organise local school or university occupations is very welcome to do so, as long as they agree to participate to achieve our core demand and follow our three principles: youth-led occupation, climate justice framework for the demands, and occupy until you win."