A vast belt of brown seaweed twice the length of Australia is inundating the coastlines of Florida and the Caribbean, swamping tourist beaches, strangling fisheries and generating toxic hydrogen sulphide gas as it rots on the shore.
In 2011, a type of algae called sargassum began growing into giant blooms that stretch from West Africa to the Gulf of Mexico. Dubbed the Great Atlantic Sargassum Belt, the 8000 kilometre-long seaweed patch is visible from space.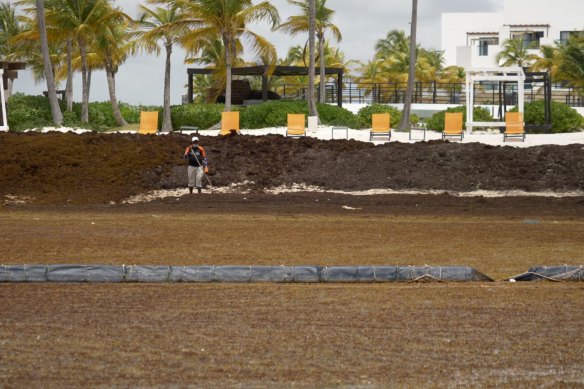 "Although the peak month of June or July is several months away, there is already a sign that this year's sargassum bloom will likely be the largest ever recorded, with major impacts throughout the next few months," reported the University of South Florida's Optical Oceanography Lab in March.
But as 13 million tonnes of the seaweed wreaks havoc, an Australian entrepreneur plans to convert swaths of the bloom into bioplastic.
Fionnuala Quin founded her start-up, Kelpy, in the depths of lockdown from her home in Jervis Bay. Compelled to do something positive for the planet after Black Summer's horrific impact on the New South Wales south coast, Quin, the daughter of a fisherman, began researching how to make bioplastics from seaweed.
Other start-ups, such as the CSIRO-backed Uluu, have worked on deriving sugars from seaweed and fermenting them with microbes that produce natural polyesters.
But Quin engaged polymer scientists who have developed an entirely new compostable bioplastic.
"This is a completely different process," Quin said, who would not reveal more about the technology because it was yet to be patented.
"It's cost-effective, and it's not reliant on a singular species – we're looking at invasive species, waste stream species, seaweeds that have already had some ingredients extracted from them so we can use what's left over."
On Friday, Quin took bioplastic pellets created from sargassum that had swamped the Dominican Republic to a plastic moulding company on the northern beaches.
Using a test mould – which happened to be in the shape of a taco holder – Quin proved that her pellets could be shaped into products using equipment designed for normal plastic.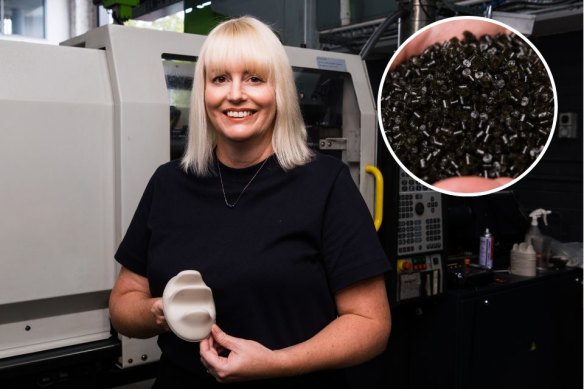 Now Quin, who is also working on creating bioplastic products with Unilever and Colgate, has paired with a Caribbean start-up that came out of MIT called SOS Carbon.
The company trained 65 fishermen in the Caribbean to use the specially designed sargassum collection modules that attach to fishing boats and can collect 70 tonnes of seaweed a day.
Quin aims to build her partnership with SOS to the point where 50,000 tonnes of the harvested sargassum are converted into bioplastic in a year.
In the meantime, ecologists continue to investigate the cause of the sargassum mega blooms. At healthy levels, the floating seaweed islands host 120 species of fish, offer sanctuary to baby turtles and serve as a spawning ground for American and European eels.
But fertiliser runoff from soy farms and cattle in the Amazon, ocean water warming due to climate change and iron, nitrogen and phosphorus blown into the Atlantic from Saharan dust storms have boosted seaweed growth and created an ecological disaster, said Florida International University's "Dr Beach", Stephen P. Leatherman.
"Sargassum has become a recurring seaweed monster, but humanity is the real villain," Leatherman said.