Yessie Mosby is a Zenadh Kes (Torrest Strait) man from the island of Masig. He was part of the appeal to the United Nations on behalf of Torres Strait islanders.

CREDIT:

KARL BOURO
OPINION from SMH
When I woke up on my island home of Masig last Friday, I saw the sky was full of hundreds of frigatebirds. This was a sign from my ancestors that we would be hearing good news.
Later that afternoon, I received the phone call we had been waiting for: we had won our case. The United Nations human rights committee made a landmark ruling that by failing to act on climate change, the Australian government violated our rights as Torres Strait Islanders.
This win is not only for us but for all First Nations people – this is for all Indigenous people around the world.
In 2019, I joined with seven other traditional owners from the islands of Warraber, Boigu and Poruma to bring a complaint to the United Nations against the Australian government.
We lodged this case because the federal government has an obligation to look after all Australians. Under international human rights law, the Indigenous people of this country have the right to practise our cultures and live freely, just as we have done for thousands of years.
We live in harmony with the land, sea and sky. But climate change is putting our way of life at risk. We are seasonal people. Our main staple food is fish and a variety of shellfish. When certain trees blossom, we know that a particular fish is abundant – but the seasons are out of line now. We have also noticed the seabirds are not returning.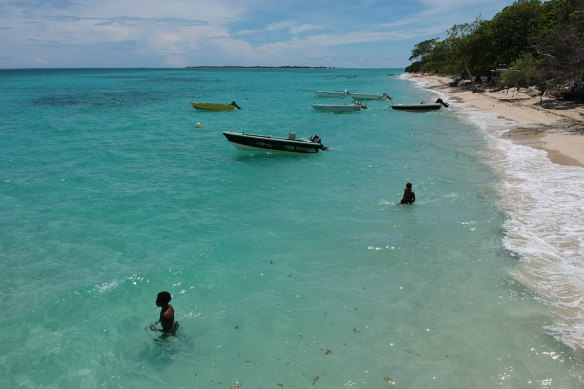 Ocean acidification – another impact of global climate change – is affecting our marine life. Droughts affect our plant life and we have watched the winds blow stronger and for longer.
Our coconut trees are diseased due to saltwater intrusion as sea levels rise, and we now fear the high tides. We have even seen our loved ones' remains washed away as our grave sites are damaged.
I know that our ancestors are rejoicing knowing that Torres Strait Islander voices are being heard throughout the world with this historic win. This win gives us hope that we can protect our islands, culture and traditions for our children and future generations.
We are celebrating now, but we know this is just the beginning of our fight for climate justice. The new Australian government may have brought in a new climate policy, but more ambitious action must be taken urgently.
That's why we are calling on the Albanese government to fund adaptation programs such as seawalls that will allow communities in Zenadh Kes (the Torres Strait) to adapt to the impacts of climate change.
Deep consultation with traditional owners is needed to make sure these seawalls are made to last and don't have negative impacts on our way of life. For example, we know where the turtles and seabirds nest and how seawalls can affect their cycles of life.
We also need the government to commit to 100 per cent renewable energy in Australia in the next 10 years and to help communities in Zenadh Kes build community-owned renewables projects.
RELATED ARTICLE
This transition away from polluting fossil fuels needs to happen as quickly as possible, which means there can be no new coal and gas projects in Australia. But we must also help fossil fuel workers to retrain and find new jobs to keep their own communities strong.
We're calling on the new Australian government to take this call for greater climate action to the international climate talks in Egypt in November and to push the world to keep global warming to less than 1.5 degrees.
We are celebrating in Zenadh Kes, but the fight is not over. We will continue to fight until our hearts stop ticking, and we know the next generation will pick up this baton and continue to run towards a brighter future.