The United Nations General Assembly is looking to the International Court of Justice for a decision. (AP PHOTO)
KEY MESSAGES
The Vanuatu Government along with a core group of countries tabled a Resolution at the UN General Assembly on

Wednesday 29th March 2023, 10am Eastern Standard Time. 

The Resolution asks the International Court of Justice (ICJ) to clarify what the obligations of states are in protecting the rights of current and future generations from the adverse effects of climate change. It would help bolster climate action and help bring us closer to avoiding climate catastrophe. 

In making history, the Resolution was adopted by consensus by the General Assembly.

The campaign has been led by the Pacific who are at the frontlines of the climate crisis and are seeing the severe impacts it is having on the human rights of people daily.
UN vote asks world court to rule on climate obligations
The United Nations General Assembly has voted to pass a resolution asking the world's top court to define the obligations of states to combat climate change, a legal opinion that could drive countries to take stronger measures and clarify international law.
The historic resolution seeking an advisory opinion from the International Court of Justice was inspired by Pacific island law students and passed with a consensus vote after a four-year campaign led by Vanuatu.
"Such an opinion would assist the General Assembly, the UN and Member States to take the bolder and stronger climate action that our world so desperately needs," UN Secretary General Antonio Guterres said.
An advisory opinion would not be binding on any jurisdiction but could influence future negotiations.
Vanuatu Prime Minister Ishmael Kalsakau said it "will have a powerful and positive impact on how we address climate change and protect present and future generations."
"Together we will send a loud and clear message not only around the world but far into the future that on this very day, the people of the UN acting through their governments decided to leave aside differences and work together to tackle the defining challenge of our time," he said before the General Assembly.
Vanuatu pushed for the resolution, leading a core group of 18 countries ranging from Costa Rica to Germany.
Countries will submit input over the next year.
It could take the court about 18 months to issue an advisory opinion that could clarify financial obligations countries have on climate change, help them revise and enhance national climate plans submitted to the Paris Agreement and strengthen domestic policies and legislation.
Vanuatu and other vulnerable countries are already grappling with powerful effects of a heating planet.
The south Pacific island has been slammed by powerful climate-fuelled cyclones, including two this month that left 10 per cent of its population still in evacuation centres.
On the eve of the vote, Vanuatu diplomats were still trying to win support from China and the US, or at least convince the two biggest greenhouse gas emitting countries not to raise objections.
The United States did not support the resolution at the General Assembly.
"We believe that diplomacy – not an international judicial process – is the most effective path forward for advancing global efforts to tackle the climate crisis," a senior US official said.
"We have expressed that directly to our partners and made that clear at the UN."
The latest report by the Intergovernmental Panel on Climate Change warned that to limit global warming to 1.5C, greenhouse gas emissions must be nearly halved by 2030.
Bangladesh's foreign secretary called the resolution's passage a "defining moment" that can help bridge the gap between climate finance promises made to vulnerable countries and what is delivered.
"Despite better needs for financing, we see growing expenditure in military budgets or armaments of funding wars and conflicts or even bailing out companies during a financial crisis," he said.
"We hope this resolution and consequent advisory opinion will provide a better understanding of the legal implications of climate change under international law."
The resulting advisory opinion could be a vital input to the burgeoning climate-driven lawsuits around the world.
There are upwards of 2000 cases pending worldwide.
"A decision from the ICJ could be very influential with courts around the world that are faced with the growing number of climate change cases," Michael Gerrard, director of Columbia University's Sabin Center for Climate Change Law. said.
'A win of epic proportions': World's highest court can set out countries' climate obligations after Vanuatu secures historic UN vote
Pacific Island nation of Vanuatu on Wednesday won a historic vote at the United Nations that calls on the world's highest court to establish for the first time the obligations countries have to address the climate crisis — and the consequences if they don't.
Vanuatu has long faced the disproportionate impacts of rising seas and intensifying storms. And in 2021, it launched its call for the UN International Court of Justice to provide an "advisory opinion" on the legal responsibility of governments to fight the climate crisis, arguing that climate change has become a human rights issue for Pacific Islanders.
Although the advisory opinion will be non-binding, it will carry significant weight and authority and could inform climate negotiations as well as future climate lawsuits around the world. It could also strengthen the position of climate-vulnerable countries in international negotiations.
This year has already been rough for Vanuatu: It is currently under a six-month state of emergency after a rare pair of Category 4 cyclones pummeled the country within 48 hours during the first week of March. The islands' residents are still picking their way through the storms' rubble.
Wednesday's resolution for an advisory opinion passed by majority, backed by more than 130 countries. Two of the world's largest climate polluters, the US and China, did not express support, but did not object meaning the measure passed by consensus.
This is the first time the highest international court is called on to address the climate crisis. The landmark decision is "essential," UN Secretary General António Guterres said in his remarks to the assembly. "Climate justice is both a moral imperative and a prerequisite for effective global climate action."
Advisory opinions have "tremendous importance and can have a long-standing impact on the international legal order," Guterres said.
"Today we have witnessed a win for climate justice of epic proportions," said Ishmael Kalsakau, prime minister of Vanuatu, soon after the resolution was adopted. "The very fact that a small Pacific island nation like Vanuatu was able to successfully spearhead such a transformative outcome speaks to the incredible support from all corners of the globe."
Ralph Regenvanu, Vanuatu's minister of climate change adaptation, told CNN that he hopes the opinion would be "greatly persuasive in terms of increasing domestic action and identifying what gaps in international law and domestic law need to be filled."
"It is quite historic," he added.
From classroom to the highest court
The push to seek an advisory opinion from the world's highest court began in an environmental law class in Fiji in 2019.
Cynthia Houniuhi, president of Pacific Islands Students Fighting Climate Change, said she and her peers had been looking for ways to address the climate crisis head-on through various international legal pathways, until they decided on the International Court of Justice.
"To be honest, at first, I was very hesitant when this idea was discussed," Houniuhi said. "My mind keeps telling me to back off. I mean, let's be real here, it was too ambitious to say the least. Like, how can a small group of students from the Pacific Region convince the majority of the UN members to support this unique initiative?"
"What is the use of learning all this knowledge if it's not for people to fight the single greatest threat to their security?" she said. "For me, the memories of my childhood growing up in my village with my people are slowly fading, as the environment that sustained us disintegrates before our eyes."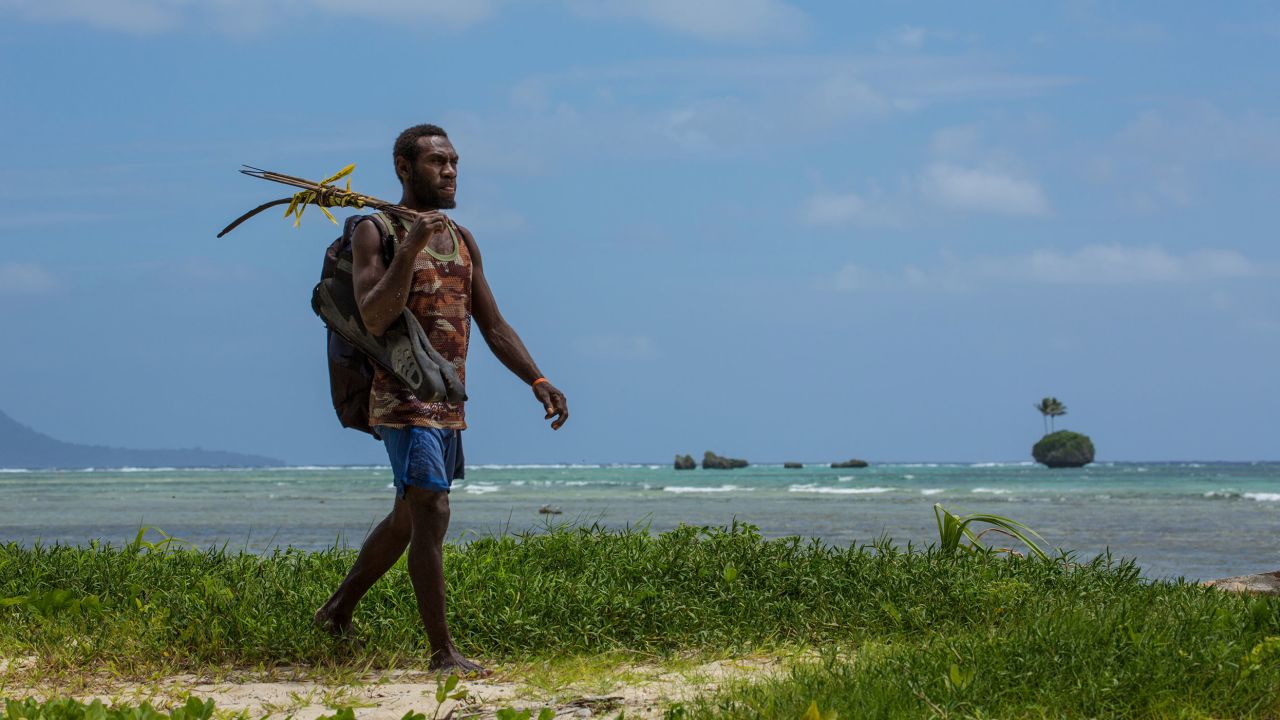 Tropical cyclones are not rare in Oceania, but Vanuatu, which has the highest disaster risk in the world, suffers disproportionately highly.
Scientists say these storms are intensifying as the planet warms and will continue to carry a tremendous economic toll. According to Regenvanu, the financial damage caused by the recent twin cyclones will likely amount to more than half of Vanuatu's GDP.
"It's an enormous impact," he said. "We just have to try to recover, rebuild, all the while knowing that we are coming up to the next climate impact."
To get support for their idea, the Pacific Island students passed around a petition that garnered signatures from teachers and students. And while campaigning for the initiative, they drafted a letter and proposal that they sent to Pacific Island governments.
After receiving positive feedback from Vanuatu, the student members met with Regenvanu, who was the foreign affairs minister at the time.
"I could empathize with them, and I share their convictions and passions," Regenvanu said. "I was very happy to receive that proposal and to commit to advancing it."
The Vanuatu government kept its word, endorsing the proposal and taking it to the international stage.
"It was history in the making," Houniuhi said. "I don't want to show a picture to my child one day of my island. I want my child to be able to experience the same environment in the same culture that I grew up in."
Final stretch
During last year's UN Climate Week in New York City, a group of Pacific Islander climate activists amped up the pressure on UN leaders, who were gathering for the annual UN General Assembly to discuss climate change-related matters.
Along the East River in front of the UN headquarters, students and climate activists sailed in a flotilla of boats, flying the flags of more than a dozen Pacific Island nations while calling on leaders to vote "yes" to their request for an advisory opinion.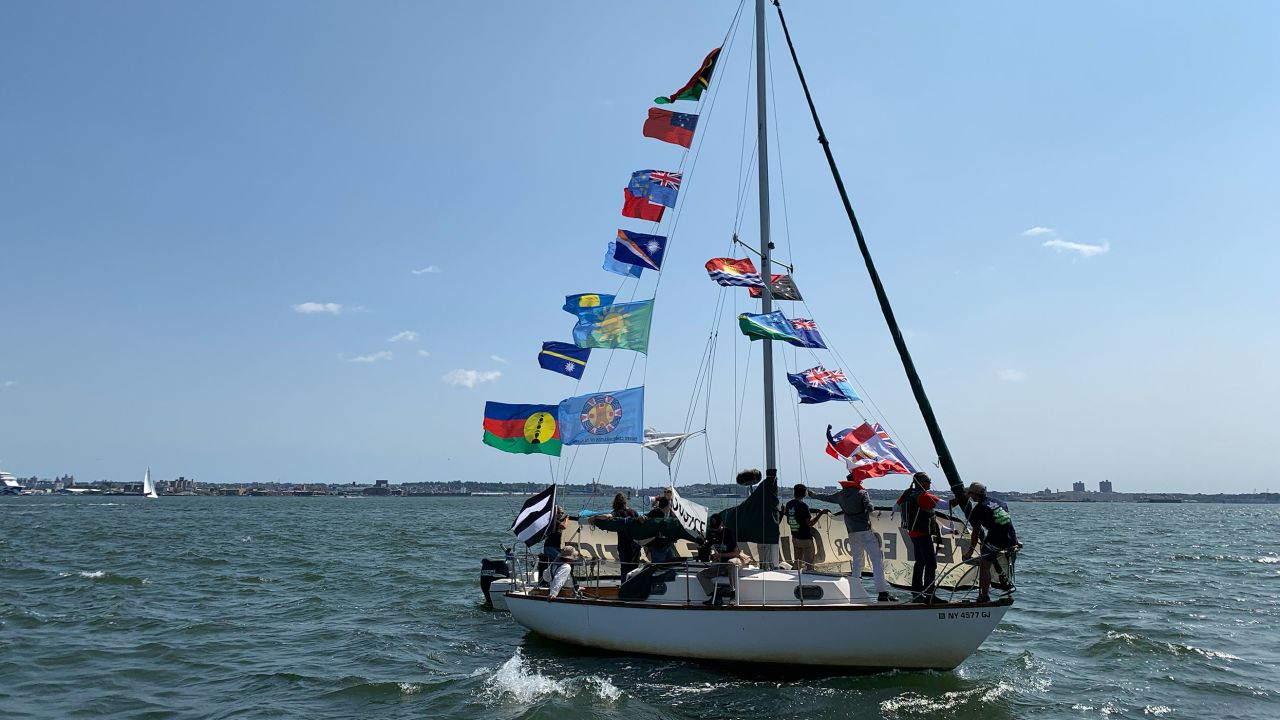 The momentum continued two months later at the UN's COP27 climate summit in Sharm el-Sheikh, Egypt, where world leaders and negotiators agreed to create a loss and damage fund, which Vanuatu first proposed back in 1991.
The idea is that rich countries — which have contributed the most to climate change with their planet-warming pollution — should pay poorer nations to recover from the resulting disasters.
"It's a great injustice when you see oil companies make billions in profits when countries like ours in the Pacific are looking for and seeking support for climate adaptation and mitigation," said Lavetanalagi Seru, Fijian climate activist and regional policy coordinator with the Pacific Islands Climate Action Network. "And now, we are living through an era of loss and damage."
While the advisory opinion is separate from loss and damage, Regenvanu said they are both rooted in climate justice. Having an advisory opinion from the highest court would provide legal clarity of how a loss and damage fund would work.
"The ICJ advisory opinion will come at a the right time to help us define what loss and damage means [and] how it will work," he said.
Regenvanu said Vanuatu's request brings attention to the legal avenues small countries can take to fend off the worsening effects of the climate crisis.
"While the Paris Agreement is an essential part of the international legal framework for climate action, it is certainly not the only instrument … nor is it the most legally enforceable," Regenvanu said.
It could still take around 18 months for an opinion to be issued, with countries able to provide input into the process.
The climate change minister will now head home to Vanuatu, where he said he will rejoin the ongoing relief efforts after the recent storms.
"We're basically constantly in a state of recovery in response to climate disasters," Regenvanu said. "This is why we are so passionate on the climate change front, because this is our reality, and we need to deal with it, and we need other countries to assist us to deal with it."