U.S. greenhouse gas emissions, projected emissions under current policy (red), and under the Inflation Reduction Act according to Princeton REPEAT, Energy Innovation, and Rhodium Group analyses. (Created by Dana Nuccitelli)
How I learnt to stop worrying and love Biden's IRA

Environment and Climate Editor
In the wonky world of energy policy the closest thing to a rock star might be David Roberts, a journalist-blogger and podcaster host who pulled guests like Barack Obama and Al Gore onto his show, Dr Volts.
This past week Roberts has been visiting Australia as a guest of the Electrical Trades Union, and hopes he can explain to Australian politicians and bureaucrats why this country urgently needs to pass legislation in response to the growing impact of the IRA.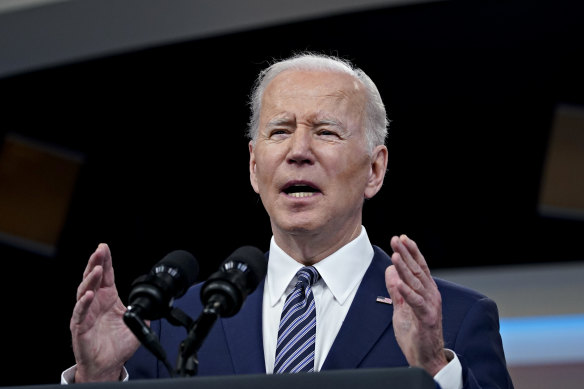 This is not an Irish paramilitary organisation but the Biden administration's single most significant post-pandemic achievement, the Inflation Reduction Act. The impact of the IRA has proved to be far bigger than many predicted. It is now upending not just climate and energy policy in the United States and around the world, but industrial, economic and even foreign policy is being shaped by the great geysers of investment it has unleashed.
At first, Biden's plan – called Build Back Better – was to entirely remake the American economy and social architecture in the wake of COVID-19. Parts were passed but much more was whittled away by a wall of Republican opposition and the mistrust of a handful of Democrats.
Biden's team then set about rescuing the climate and energy sections of the broader plan, which they rebadged as the Inflation Recovery Act in view of conservative scepticism over climate action. Even then, most had given up on the bill passing due to the opposition of the coal-happy Democratic senator from West Virginia, Joe Manchin.
But it did, almost a year ago, and its impact has been profound. The IRA unleashed nearly $A800 billion in tax breaks and subsidies over a decade to boost clean energy infrastructure and encourage high-tech green manufacturing – think solar panels, turbines and batteries – to the US.
It is hard to exaggerate the impact of that sort of investment. According to a recent Goldman Sachs report companies have announced plans to build or expand 83 clean energy manufacturing facilities, including a $US5.5 billion ($8.45 billion) lithium-ion battery production complex in Arizona that has been described as North America's "single largest investment ever" in a stand-alone battery factory.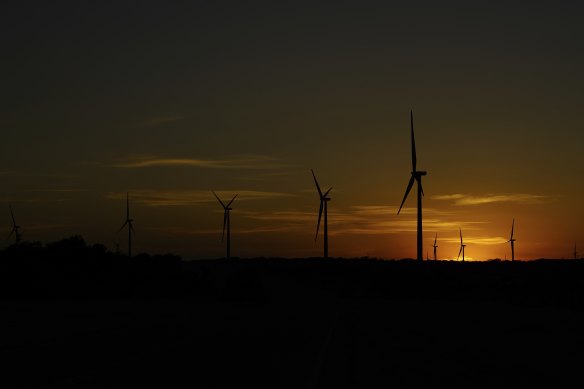 "It's already clear that we're seeing, as a result of the IRA, really a renaissance in American manufacturing," American Council on Renewable Energy President and CEO Gregory Wetstone told Goldman Sachs. "I don't think in my career I have ever seen a law have greater impact on economic development in this country."
as a result of the IRA, really a renaissance in American manufacturing
By some recent estimates IRA's stimulus will spur up to $US3.3 trillion of investment.
But it has done more than that. Europe, which had grown used to seeing the US as climate laggards, was stunned by the passage of the IRA, which it sees not just as climate policy in disguise as inflation reduction, but as unfair subsidisation of US industry.
Europe, … was stunned by the passage of the IRA, which it sees …. as unfair subsidisation of US industry.
It is not an entirely unreasonable assertion. In April, the National Security Advisor Jake Sullivan placed the IRA at the heart of what he referred to as "the new Washington consensus". The speech was a blunt refutation of unfettered globalisation and a declaration that the US government would have a hand in shaping the industries that built vital infrastructure and technology.
But it is more than a new industrial policy too. It is a broader rejection of the free trade policies that many Democrats believe hollowed out its middle class, fuelling not just misery in America's industrial heartland, but distrust in government and a corresponding rise in middle-class radicalism.
The IRA also serves as a counter to China's rise, as America determines to build supply lines not only of technology but essential minerals that run through its allies, particularly Australia with its wealth of critical minerals. Get used to hearing about "friendshoring" rather than on-shoring.
The policy has turbocharged a global race for green investment dollars, resources and brainpower needed to build the new green economies
The policy has turbocharged a global race for green investment dollars, resources and brainpower needed to build the new green economies, which brings us back to David Roberts' visit to Canberra.
"We were pushing on open doors, people know how significant it is" says Roberts of his series of meetings with ministers and industry bodies. Indeed, during one of those meetings Climate and Energy Minister Chris Bowen said he believed that the IRA might one day be viewed as significant a moment in the fight against climate change as the signing of the Paris Agreement.
Says ETU national secretary Michael Wright: "People know that whatever our response is, it has got to be big. They just don't really know what big is yet."
It is not just access to minerals and resources that is concerning the sector. New power generation is being deployed at such a rate in the US that the old grid can't keep up. The queue for access to interconnection has leapt by 40 per cent since the IRA passed.
A similar queue is forming in Australia, says Wright, where a further 10,000 kilometres of transmissions lines is needed. Wright had thought of bringing an apprentice lines worker with him to the meetings in Canberra this week to explain their work, but decided against it in the end.
"We only have 30 of them in the country, it seemed irresponsible to bring 10 per cent of the apprentice workforce to Canberra."
The UTS Institute of Sustainable Futures last year found Australia needs 12,000 new workers in renewable energy by 2025. Over the longer term, overall electricity sector employment is projected to more than double from 37,000 in 2023 to 81,000 in 2049.
Where once we might have imported workers to cover the shortfall, now the world is in competition for the same pool of skilled labour. Australia must now work out how to train and then keep those workers it needs. That could mean going large in a response to the IRA.
Roberts dismisses those who fret over the size of the spending in the US.
The more you invest in this stuff, the more growth you get, the more tax revenue you get, the better off you are.
"It's maddening to me. I beat my head on the wall. The more you invest in this stuff, the more growth you get, the more tax revenue you get, the better off you are. If you ask me, personally, I think it was way too small. If you really want to transition your entire energy system, you need to be spending like at least two or three per cent of GDP," he says.
"If you really want to transition your entire energy system, you need to be spending like at least two or three per cent of GDP"
"I mean, of all the worries I have, the government running out of money is not one of them."
---
Experts: Senate-passed bill will yield
myr

iad

climate

benefits
Posted on 9 August 2022 by dana1981
This is a re-post from Yale Climate Connections
The U.S. Senate passed the Inflation Reduction Act by a single vote on Sunday, August 7.
The bill, headed to the House of Representatives within days, includes by far the largest and most consequential measures to reduce domestic climate pollution in the nation's history, with a $386 billion clean energy investment, according to the Congressional Budget Office.
Based on analyses by several energy modeling groups, it would reduce U.S. greenhouse gas emissions by close to one-billion tons of carbon dioxide equivalent in the year 2030, significantly narrowing the gap between the U.S.'s current path and its Paris ClimateAgreement commitment.
The bill took an almost biblical course from inception to what now appears to be likely passage by the House and signature by President Joe Biden. It overcame odds that just two weeks ago appeared likely to be fatal: Two separate apparent death blows by Senator Joe Manchin (D-WV), before its prospects twice rising from the proverbial ashes.
The deal reached between Senator Manchin and Majority Leader Chuck Schumer (D-NY) largely survived intact after last minute negotiations with Senator Krysten Sinema (D-AZ), a "Byrd bath" scrubbing by the Senate Parliamentarian, and a marathon weekend "vote-a-rama" on the Senate floor.
According to various expert analyses, the Inflation Reduction Act would not only significantly curb greenhouse gas emissions in the U.S., but also other fossil fuel air pollutants and their adverse health effects; reduce the federal deficit; create jobs; boost the economy; and lower average household energy bills. Republican senators rejected such assessments and voted in lockstep unanimity against efforts to pass the legislation, forcing Vice President Kamala Harris to break several 50-50 tie votes, including the final vote on passage, to ensure sending it to the House for an expected party-line vote later this week.
Not surprisingly, it's an imperfect bill and insufficient to meet the U.S. Paris commitment on its own, but nevertheless bringing that target within reach while creating numerous other beneficial outcomes in the process.
The bill's
climate

provisions and emissions reductions

Three energy modeling groups have examined the effects of the climate provisions in the Inflation Reduction Act: Princeton REPEAT, Energy Innovation, and the Rhodium Group. The first two of those groups estimate that the package will curb U.S. greenhouse gasemissions by around one-billion tons by 2030; Rhodium's analysis is a bit more bearish, with a central estimate of 650 million tons of carbon dioxide equivalent reduced by the bill. On average, the groups estimate that the bill – if, as expected, passed by the House and enacted – would curb U.S. greenhouse gas emissions by about 900 million tons in 2030, bringing the country 13% closer to meeting its Paris commitment.
U.S. greenhouse gas emissions, projected emissions under current policy (red), and under the Inflation Reduction Act according to Princeton REPEAT, Energy Innovation, and Rhodium Group analyses. (Created by Dana Nuccitelli)
From the standpoint of reducing climate pollution, the bill's extension of production and investment tax credits for clean electricity projects is its most consequential provision. Those tax incentives have helped spur the rapid growth of wind and solar energy in the U.S. and their displacement of coal power over the past decade.
But that domestic clean electricity growth had begun to stall, in part because the tax credits were beginning to expire, and there was uncertainty about whether they would be extended. Their 10-year extension in the pending Inflation Reduction Act would give clean energy companies and investors needed confidence to resume the accelerated deployment of renewable projects, as the chart below from the Princeton REPEAT report illustrates. These provisions would account for about 360 million tons of emissions reductions in 2030, or about 36% of the total cuts, according to the Princeton group.
Tax credits and other incentives for electric vehicle (EV) purchases are the second most effective carbon-reducing measures in the bill. (The bill passed by the Senate has non-climate-related provisions not addressed in this feature.)
The bill would provide a $7,500 tax credit for an individual earning less than $150,000 per year to purchase a new electric SUV or truck or van costing less than $80,000, or a new electric car costing less than $55,000, or a $4,000 tax credit for an individual earning less than $75,000 per year to purchase any used EV costing less than $25,000. The Senate bill also includes plug-in hybrids (PHEVs) with battery capacity of 7 kWh or larger. But there is an important caveat here: The majority of an EV's or PHEV's batteries and minerals would need to be sourced from the U.S. or its free trade partners to qualify, and those supply chains don't yet exist. According to the Princeton group's analysis, the EV provisions would account for about 280 million tons of emissions reductions in 2030, or about 28% of the bill's total cuts.
The Inflation Reduction Act also includes a fee for methane leakage from oil and gas facilities and infrastructure, although they are exempt from the charge if in compliance with Environmental Protection Agency (EPA) methane regulations, which the agency expects to soon strengthen. The EPA estimates that those regulations will reduce emissions by about 140 million tons of carbon dioxide-equivalent, or about 14% of the bill's total cuts (although Princeton counts some of these in the current policy baseline scenario). The methane fee, rising to $60 per ton of carbon dioxide-equivalent (CO2e) within a few years, is expected to provide a strong financial incentive for oil and gas facilities to comply with the EPA regulations. Energy Innovation estimates that 95% of domestic methane leakage could be abated at a cost of less than $40 per ton of CO2e. The bill also calls for providing $1.5 billion in grants to assist oil and gas companies in repairing, monitoring, and reporting their methane leakage.
The Princeton group also envisions about 130 million tons of emissions reduced in 2030 (13% of the total) through the implementation of carbon capture and storage. The Inflation Reduction Act, if passed as the Senate approved it, extends the 45Q tax credit for carbon sequestration, providing $85 per ton of carbon permanently stored, or $60 per ton used for enhanced oil recovery.
Another 100 million tons of carbon dioxide (10% of the total) are projected to be removed from the atmosphere through natural processes funded in the package. The Senate-passed bill would provide $5 billion for forestry measures, including $2 billion for wildfire prevention, $1.5 billion for urban and community forestry grants, and $1 billion for forest conservation. Another $20 billion is slated for programs that can fund climate-smart agricultural methods like cover cropping and silvopasture.
The package also includes $10 billion in consumer home energy rebate programs to provide financial assistance for homeowners to purchase heat pump space and water heaters and clothes dryers, electric stoves, improved insulation and windows, and wiring upgrades that may be needed for home electrification. Another $200 million is slated to train contractors in building electrification and efficiency measures. The Princeton team estimates that these building improvements could curb emissions by about 50 million tons, or 5% of the total.
Other climate investments in the comprehensive Inflation Reduction Act include: $60 billion in environmental justice priorities to invest in disadvantaged communities; $60 billion for domestic clean energy manufacturing; $27 billion for a national green bank; and $3 billion for the U.S. Postal Service (which has the nation's second-largest vehicle fleet, after the Department of Defense) to purchase more EVs. Separate from its $385 billion in climateinvestments, the legislation also provides $250 billion in loan authority to the Department of Energy for lending to clean technology startups.
Senator Manchin additionally secured some provisions requiring that the government offer onshore and offshore oil and gas land leases in exchange for offering similar wind and solar land leases. This compromise has drawn heavy criticism from some environmental advocates, but the analyses by Energy Innovation and Princeton REPEAT conclude that those leases would result in an emissions increase of less than 50 million tons of carbon dioxide, or roughly 25 times less than the emissions reductions from the climate provisions in the rest of the package. By accelerating the transition away from fossil fuels and toward electric technologies like EVs and heat pumps, the bill is expected to reduce overall oil and gas demand, and thus the incentive for companies to lease and develop more lands for drilling.
The projected economic and health benefits
By accelerating the transition away from fossil fuels, the bill would also reduce emissions of other air pollutants that result from their combustion. Duke University scientist Drew Shindell is a leading expert in this field, having concluded that prior research significantly underestimated the adverse health effects of fossil fuel air pollution. His team offers an online tool that estimates domestic health, agricultural, and economic benefits associated with reductions in fossil fuel use.
Combining that tool and other communications with Shindell yields an estimated 180,000 premature American deaths avoided between now and 2030 thanks to the cleaner air that would result from provisions of the legislation as passed by the Senate, and thought likely to pass the House, again probably on a party-line vote, as early as Friday, August 12. Additionally, the reduced air pollution would result in 10 million fewer lost work-days worth $2 billion to the U.S. economy, 60,000 fewer incidences of dementia, and increased staple crop yields worth $4 billion to U.S. farmers over the next eight years.
Moody's Analytics and the Committee for a Responsible Federal Budget also project that the bill would modestly curb inflation in the short term by raising more revenue through changes to the tax code than it spends (and thus reducing the amount of money circulating in the economy). In the long-term, they conclude that the legislation will reduce future inflationary pressures by lessening U.S. reliance on fossil fuels and their unstable prices. Energy Innovation projects that the Inflation Reduction Act would create 1.5 million jobs and boost gross domestic product by about 0.86% in 2030. And Rhodium Group estimates that average U.S. household energy costs would decrease by about $1,000 per year between 2021 and 2030, mostly due to reduced fuel bills resulting from the adoption of EVs.
The Republican leadership in the Senate, under Minority Leader Mitch McConnell (R-KY) steadfastly rejects those estimates, and House Republicans are expected to do so also.
Clearly 'historic'
climate

action

If signed into law as appears increasingly likely, the Inflation Reduction Act will represent by far the most substantive U.S. effort to mitigate climate change. Over the past 17 years, U.S. greenhouse gas emissions declined by just 17%, or 1% per year. Over the next eight years, this package is projected to triple that rate of emissions cuts, to 3% per year, bringing the country to about 40% below 2005 levels in 2030; within striking distance of its Paris commitment.

The legislation is projected to improve Americans' health, employment, economic growth, and agricultural productivity, while inflation and the federal deficit would shrink. All while representing the U.S. federal government's first substantial effort to reign in climate pollution and bring its Paris commitment within reach.

Final enactment is widely expected to also help restore the U.S.'s standing as an international leader on the climate issue, enhancing U.S. sway with other countries in the needed international effort to address excessive climate change.